markets
BHP Counting Cost of Strike That Chile Puts at $1 Billion-Plus
By and
Escondida is taking resumption 'calmly' after 44-day stoppage

Work on building projects at the Chile site was also delayed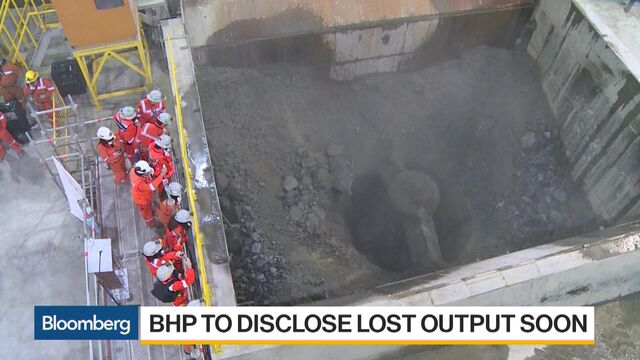 BHP Billiton Ltd. is still counting the costs of a six-week strike at one of its biggest mines.
While the Escondida copper mine in Chile has resumed production, it's taking the restart "calmly" with safety a priority, BHP President Operations Minerals Americas Danny Malchuk told reporters in Santiago Tuesday.
Lost output will be disclosed in the Melbourne-based company's operational review later this month, although production wasn't the only area affected. Work on building projects at the site including a desalination plant was also interrupted, with commissioning to be delayed, the BHP executive said.
"We are analyzing and working on new schedules," he said.

Earlier Tuesday, Malchuk delivered a speech to the copper industry's annual gathering in which he outlined the importance of adopting new technology and an innovative, collaborative approach to reverse Chile's slide down the global productivity rankings as ore quality deteriorates.
For an industry rattled by an extended strike at the world's biggest mine, productivity and labor relations are proving to be central themes at the Cesco Week conference.
Arnaud Soirat, head of copper at Rio Tinto Group, a minority shareholder in Escondida, told participants that it's perturbing how many collective-bargaining processes in Chile wind up with strikes. He drew the comparison with Rio's Kennecott mine in the U.S. where contracts were renegotiated "without a single ton lost."

The losses at Escondida probably will total 220,000 to 230,000 metric tons, representing about 1 percent of annual global production, according to Chile's copper agency, Cochilco. That's more than a $1 billion at today's prices.
The calculation includes 156,000 tons during the six-week stoppage and 60,000 to 70,000 tons lost as the mine resumes operations and production goes back to normal. The stoppage has left Chile's economy teetering on the edge of its first recession in eight years.
The Escondida strike is one of the reasons some participants at the conference are forecasting an end to years of surpluses in the copper market.
For BHP, the wage dispute continues.
The two sides at Escondida failed to reach an agreement, with workers opting to revert to their old contract and resume talks next year under a new labor code.
While BHP is confident of reaching a "good" wage agreement at Escondida, the mine still has work to do to improve productivity, Malchuk said.
"I still think we can repair the labor relationship," he said. "I see the following 18 months as an opportunity to establish a conversation with our workforce and keep pushing Escondida forward."

Before it's here, it's on the Bloomberg Terminal.
LEARN MORE