Your Evening Briefing
Here are today's top stories
Bloomberg News
Want to receive this post in your inbox every afternoon? Sign up here.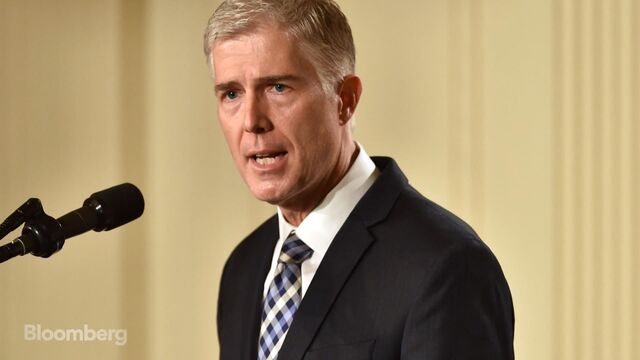 Can't win? Change the rules. That's the strategy Senate Republicans are likely to deploy this week, with Democrats building up to a confrontation over President Trump's Supreme Court nominee, Neil Gorsuch. Changing the rules–specifically, to eliminate the 60-vote threshold and end filibusters on high court nominations, also known as the "nuclear option"–would fundamentally change the Senate's tradition of debate and compromise. –Emily Banks
Democrats have enough votes to halt Gorsuch's confirmation to the Supreme Court. At least 41 say they plan to vote not to advance his nomination this week, according to a Bloomberg News tally. While the GOP controls the Senate 52-48, 60 votes are required to move a high court nomination toward a final vote. There is, however, the "nuclear" option of changing Senate rules, a controversial step that could roil the politics of the chamber.
Elon Musk trolled short sellers, after Tesla climbed to a record and surpassed Ford. "Stormy weather in Shortville..." the CEO tweeted, as Tesla shares climbed as much as 5.7 percent. The maker of Model S sedans and Model X crossovers saw its market capitalization surge to about $47.8 billion, $2.6 billion more than Ford.
A subway bombing in St. Petersburg killed at least 10 people. The explosion rocked the subway in Russia's second-largest city and the home of President Vladimir Putin, killing 10 people and injuring at least 29. The blast came from a homemade bomb filled with shrapnel, said authorities, who called the bombing an act of terrorism.
Brexit could disrupt millions of expats' lives. The more than 3 million EU nationals who live in Britain and the almost 1 million British citizens who live in other EU countries face uncertainty. With the free movement of citizens—a basic tenet of EU law—curtailed or restricted, theoretically they could see bank accounts closed, employment terminated or rental agreements revoked—not to mention deportation.
When April Fools' Day hits the bottom line. Turkish chocolate maker Ulker isn't amused after an April Fools' Day ad gone wrong sank its stock. The animated clip faced an intense backlash, with critics saying it invoked last year's failed coup. By lunch time in Istanbul, Ulker's shares had tumbled as much as 4.7 percent.
Oprah is Weight Watchers' best paid, most absentee board member. Oprah Winfrey, who agreed in 2015 to buy a stake in the weight-loss company and join its board, received $264,753 for her services last year, according to a regulatory filing. That's more than twice the amount given to the second-highest-paid director, Denis Kelly. She was the sole director to attend fewer than 75 percent of the board's 10 meetings in 2016.
Trump's Ferrari disappointed at a Florida auction. The 2007 Ferrari F430 F1 Coupe left the sale block before meeting reserve at auction on Saturday in Florida. Bidding on the car stopped at $240,000, $10,000 below its low estimate. Trump purchased it new in 2007 and owned it for four years, enough to add on 2,400 miles. The car was offered to the auction house by its second and current owner.

Before it's here, it's on the Bloomberg Terminal.
LEARN MORE