U.K. Must Publish Costs of 'No Deal' Brexit Outcome, Panel Says
By
May's threat to quit without agreement would damage both sides

Parliament's Brexit committee warns of costs of WTO terms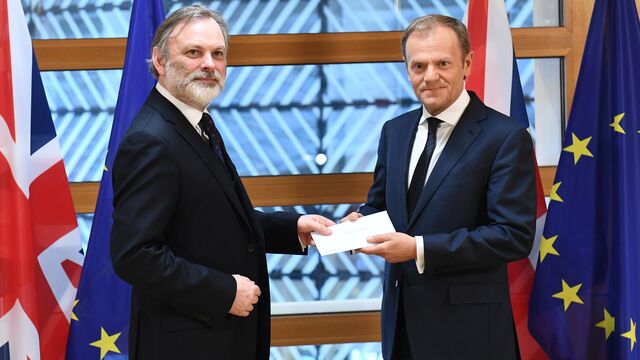 U.K. Prime Minister Theresa May must commission and publish a "thorough assessment" of the consequences of Britain walking away from the European Union without a deal, a cross-party panel of lawmakers said on Tuesday.
The premier's assertion that "no deal is better than a bad deal" is unsubstantiated and failure to reach an agreement would damage both the U.K. and the EU, the House of Commons Brexit committee said in a report which split its members. Six of the 16 lawmakers present when it was finalized voted for it not to be published.
"Without an economic impact assessment of 'no deal' and without evidence that steps are being taken to mitigate the damaging effect of such an outcome, the Government's assertion that 'no deal is better than a bad deal' is unsubstantiated," committee chairman Hilary Benn said in an email. "Parliament must be in an informed position to decide whether a proposed deal is, in fact, better or worse than no deal."
May, who said she was seeking a "bold and ambitious" free trade deal as she triggered the two-year process for Britain to quit the bloc on March 29, has already run into headwinds before formal talks begin. Disputes have included the sequence of negotiations, apparent threats over security co-operation and the sovereignty of Gibraltar. It is not clear if reaching a free trade agreement in the 18 months outlined by the European Commission is realistic, the panel said.
The need to settle debts with the EU, establish mechanisms for resolving trade and standards disputes and draw up flexible immigration rules that cater for the needs of high- and low-skilled employers are among the demands on British negotiators as they seek to carve out an FTA with the bloc, the panel said.
Britain's economy will suffer if the failure to reach a deal means using World Trade Organization rules for trade with the 27-members states remaining in the bloc, it said. The U.K. must also provide clarity on how it plans to arrange customs with the EU once it has left its customs union, the panel said in the report, accusing ministers of being "vague" over their plans.
"Many witnesses have told our committee that an end to tariff and barrier free trade with our largest market would have a damaging impact on the economy," Benn said. "Falling back on WTO terms would mean not just a return to tariffs, but the reappearance of non-tariff barriers. That would mean more paperwork, border checks and bureaucratic requirements for British companies trading with the EU. For many businesses these can be far more costly than the actual tariff itself."
Before it's here, it's on the Bloomberg Terminal.
LEARN MORE