Poland Charges Russians With Deliberately Causing 2010 Jet Crash
By and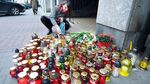 Polish prosecutors charged Russian air traffic controllers with deliberately causing the 2010 air crash that killed then President Lech Kaczynski and dozens of government and military officials.
The decision comes a week before Poland's ruling Law & Justice party, led by Lech Kaczynski's twin brother Jaroslaw, commemorates the seventh anniversary of the disaster, which killed 96 people in Smolensk, Russia in foggy conditions. While separate Polish and Russian investigations found that pilot error was mainly to blame, Poland's Defense Minister Antoni Macierewicz has said the crash was probably an "assassination."
"Previously gathered and new evidence has allowed prosecutors to press new charges against air traffic controllers, Russian citizens and a third person who was also in the control tower, for the crime of intentionally causing an air-travel disaster," Marek Pasionek, deputy head of the national prosecutor's office, told reporters on Monday. Poland wants its prosecutors to participate in the questioning of the Russian controllers, he said.
With wider implications at stake including Poland's relations with Russia, Macierewicz said when he was still in the opposition before the October 2015 election that explosives probably caused the government jet to crash into a forest short of the runway. The Kremlin rejected the prosecutors' claims.
"The circumstances of this tragedy have already been investigated and studied in detail," Kremlin spokesman Dmitry Peskov said in a conference call to reporters. "It's not possible to agree with such conclusions." He said investigations into the circumstances of the crash will continue.
On the 10th day of every month -- the monthly anniversary of the April 10 crash -- Kaczynski holds a vigil in front of the Presidential Palace in Warsaw, repeatedly vowing to "bring to justice" those responsible for the disaster. In September, investigators appointed by Macierewicz said evidence had been manipulated.
Before it's here, it's on the Bloomberg Terminal.
LEARN MORE