French Candidates Ready Debate With Macron as Target
By and
Independent front-runner faces attacks from all sides

Tuesday's debate features all 11 candidates for president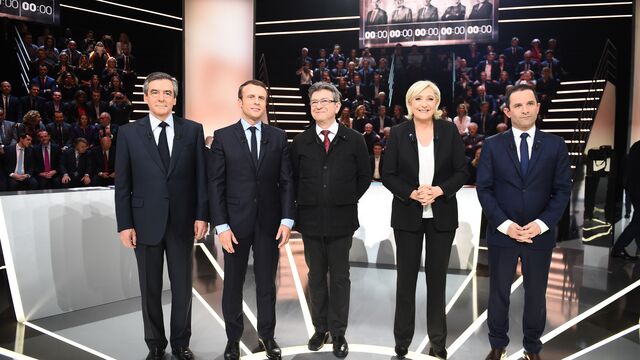 France's presidential candidates assemble for another TV debate Tuesday with Francois Fillon desperate to revive his campaign, Jean-Luc Melenchon looking to maintain his recent momentum and everyone taking aim at front-runner Emmanuel Macron.
For more than a month, polls have shown Macron and the National Front's Marine Le Pen taking the top two spots in the first round on April 23. That would qualify them for the runoff two weeks later where Macron is expected to win easily in his first ever political campaign.
Dig a little deeper into the numbers though, and the chances of another twist in the most open election in recent French history look somewhat greater. Polls show that Le Pen's supporters are committed, whereas Macron's are more driven by dissatisfaction with the other offerings and less certain to back him. About a third of the electorate has told pollsters they could still change their vote.
"Macron is the favorite right now, so of course everyone is attacking him," said Yves-Marie Cann, a pollster at Elabe. "The main thing to keep in mind is that the lines can still move."
The debate will last three-and-a-half hours from 8:40 p.m. Paris time and cover three themes: how to create jobs, how to protect the French, and how to implement each candidate's vision of France's social model.
Melenchon's Surge
Le Pen and Macron have been running in a virtual tie for the first round since the last debate on March 20, and both were at about 26 percent late on Monday with Fillon lagging behind at 17 percent in the Bloomberg composite of polls. The main change is further down, where Melenchon has leapfrogged Socialist Party nominee Benoit Hamon. Melenchon has jumped to 15 from 11 percent, while Hamon has sunk to 10 from 13 percent after a pale debate performance.

Fillon had been the front-runner before January, when the first reports emerged that he'd handed his wife a public salary for a fictional job as a parliamentary aide. Despite being charged with embezzlement earlier this month, Fillon has refused to step down, insisting on his innocence and accusing Socialist President Francois Hollande of orchestrating a plot against him.
Fillon attacked Macron repeatedly at rallies across France over the weekend, calling him "Emmanuel Hollande" because his past ties to the president and "the prince of ambiguity" due to his borrowing of ideas from across the spectrum.
"Fillon is still in the game," Elabe's Cann said. "His base is very solid and he can still hope to qualify for the second round by taking a chunk of the vote away from either Marine Le Pen or Emmanuel Macron."
Le Pen's Chances
Macron said the other candidates are wrong to focus on him while ignoring the risk that Le Pen could win and follow through with her promise to take France out of the euro.
"Those who say that Marine Le Pen cannot get past the second round are the same as those who said that Trump could never win," Macron said in an interview Tuesday with Le Monde. "If she is far ahead in the first round, anything can happen. So Benoit Hamon and Francois Fillon are confused in making me the main target of their attacks."
Unlike the March 20 debate, Tuesday's event will feature all 11 candidates on the ballot and not just the top five as last time. The remaining six candidates are Nicolas Dupont-Aignan, who sees himself as a Gaullist; Nathalie Arthaud of the Workers Party; the New Anti-Capitalist Party's Philippe Poutou; anti-finance candidate Jacques Cheminade; Francois Asselineau, who pushes to exit the euro and NATO; and Jean Lassalle, a farmer with no political party. Dupont-Aignan is at about 4 percent in the polls, the others are at about 1 percent or less.
"Obviously with 11 people it's harder to make one's voice heard but Francois Fillon is very good at making his voice heard," his campaign manager Vincent Chriqui told reporters in Paris Monday.
About 10 million people watched the first debate, or almost a quarter of France's 44.8 million registered voters. Another debate is tentatively scheduled for April 20 but some candidates have said they won't take part because it's too close to the election.
(
Corrects to remove reference in quote obtained yesterday referring to debate tomorrow.
)
Before it's here, it's on the Bloomberg Terminal.
LEARN MORE