markets
Five Things You Need to Know to Start Your Day
Get caught up on what's moving markets in Asia.
By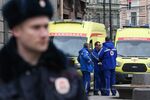 Want to receive this post in your inbox every morning? Sign up here.
Double-digit death toll after subway bombing in Russia, Reserve Bank of Australia to hold rates at record lows, and a dismal March for U.S. auto sales.
Bombing in Russia
A subway explosion in St. Petersburg that officials labeled a terrorist attack killed at least 10 people and injured many more, casting a pall over President Vladmir Putin's visit to his hometown. A second, more powerful bomb at a nearby station was later defused, according to Russian authorities. The attack was roundly condemned by world leaders, including U.S. President Donald Trump and Canadian Prime Minister Justin Trudeau. Russian financial assets, however, largely shrugged off the incident, with the ruble recording a small gain relative to the U.S. dollar and the MSCI Emerging Markets Index booking a solid advance. The resilience of EM assets in the face of chaos has been a theme in markets recently—one EM equity exchange-traded fund amassed the most inflows among U.S.-listed products in the first quarter. 
RBA to Stand Pat
A frothy housing market is expected to keep the Reserve Bank of Australia on hold at 1.5 percent when the central bank releases its decision at 1:30 p.m. Tokyo time. Weak investment, as well as meager inflation and wage gains, suggest lingering slack in the Australian economy. Later in the day, Governor Philip Lowe will deliver remarks at a board dinner in Melbourne.
Auto Sales Underwhelm
U.S. auto sales disappointed in March, bucking analyst expectations for a pickup following a relatively soft start to 2017. Discounts were offered by automakers, but to no avail: On an annual basis, sales are down in nine of the last 13 releases. The poor showing added to signs that U.S. consumer spending is poised to expand at a much slower pace in the first quarter of the year relative to the last three months of 2016.
U.S. Stocks Stumble
Benchmark U.S. equity indexes retreated in their first session of the second quarter as poor vehicle sales fueled declines in major automakers such as General Motors Co. and Ford Motor Co. Oil and Treasury yields fell, which also weighed on energy companies and financials. The Russell 2000 index of small-cap stocks broke its seven-session winning streak, with a decline of 1.2 percent.
Futures Lower
Taking their cues from the down day in the U.S., S&P/ASX 200 and Nikkei 225 equity futures are poised to open the session lower as of 6:15 a.m. Tokyo time. The broad U.S. dollar weakness on Friday prompted the yen to appreciate relative to the greenback, a negative for Japanese exporters.
What we've been reading 
This is what caught our eye over the last 24 hours.
Before it's here, it's on the Bloomberg Terminal.
LEARN MORE