Democrats Have Votes to Halt Gorsuch Nomination, Tally Shows
By
Republicans have suggested they'll change rules to allow vote

At least 41 Democrats say they'll oppose moving forward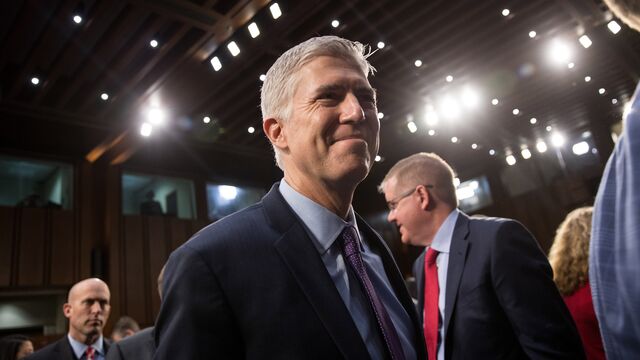 Senate Democrats appear to have enough votes to block Neil Gorsuch's confirmation to the U.S. Supreme Court under current rules, a move that may lead to a unilateral rule change by Republicans known as the "nuclear option" to put President Donald Trump's first nominee on the court.
The Senate Judiciary Committee approved the nomination Monday on an 11-9 party-line vote. At least 41 Democrats say they plan to vote not to advance Gorsuch's nomination this week, according to a Bloomberg News tally. While the GOP controls the Senate 52-48, current rules require 60 votes to move a high court nomination toward a final vote. Changing the Senate rules is a controversial step that could roil the politics of the chamber.
"I cannot vote solely to protect an institution when the lives of hard-working Americans are at risk," said Senator Patrick Leahy of Vermont, who was the 40th Democrat to say he would refuse to move the nomination forward.
Senator Chris Coons of Delaware on Monday became the 41st Democrat to oppose advancing the nomination, though he left the door open for a compromise to avoid a rule change by Republicans.
"I am holding out hope given how severe the consequences would be for the body as a whole, but given how sharply divided we are I have no great reasons for optimism," Coons said in an interview after the Judiciary vote.
Senate Majority Leader Mitch McConnell has guaranteed that the Senate will confirm the judge, a hint that the GOP is prepared to force a rule change this week. The full Senate showdown over whether to advance the nomination to a final vote is likely on Thursday. The majority leader has said a final vote is set for Friday.
"We will not have a successful filibuster of a Supreme Court nominee because we will change the rules if we have to," Republican Lindsey Graham of South Carolina said at the Judiciary meeting. "It looks like we're going to have to. I hate that."
The Nuclear Option, Washington's Explosive Topic: QuickTake Q&A
Gorsuch's confirmation would give the court five Republican-appointed justices, restoring a majority that had been in place for almost half a century before the February 2016 death of Justice Antonin Scalia.
Gorsuch, a judge on a Denver-based federal appeals court, made no real stumbles during his four-day Judiciary Committee confirmation hearing in March. Republicans say Gorsuch is a mainstream judge highly qualified to join the Supreme Court; Democrats say his rulings on a Denver-based federal appellate court show he's a pro-business judge who rarely favors ordinary Americans.
In remarks during the Judiciary Committee meeting Monday, panel Chairman Chuck Grassley of Iowa said Democrats' efforts to find fault with Gorsuch "will not stick."
"His record on the bench has shown the judge falls well into the mainstream," Grassley said. "You wonder what the uproar about him is all about."
The panel's top Democrat, Dianne Feinstein of California, said she "cannot support this nomination" because in some rulings he "went out of his way to imply his own view of what the law should be even when it would have devastating effects on people's lives."
She said his answers to the committee's questions were unclear "even on big and long-settled cases." Her office said she would vote on the floor against advancing the nomination.
Republican Senator John Cornyn of Texas told Democrats on the panel, "There will never be a nominee by this president that you will find acceptable. Never."
Many Democrats are still furious over Senate Republicans' refusal in 2016 to give a hearing to then-President Barack Obama's choice to replace Scalia, even though 10 months remained in Obama's term when he nominated Judge Merrick Garland. Senators Tom Carper of Delaware and Jeff Merkley of Oregon have said the blockade of Garland is their main reason for opposing Gorsuch.
"My conscience will not allow me to ratify the majority leader's actions, not last year, not this year," Leahy said Monday. "I will not, I cannot, support advancing his nomination."
Gorsuch, nominated by Trump on Jan. 31, was unanimously confirmed by the Senate when he was appointed to the appeals court in 2006.
— With assistance by Steven T. Dennis, and Greg Sullivan
Before it's here, it's on the Bloomberg Terminal.
LEARN MORE