BMW Tops Mercedes for First Time in 2017, Narrowing the U.S. Luxury Race
By
Surge for X3, X5 SUV models offsets BMW passenger car slump

Mercedes ahead by less than 7,500 units year to date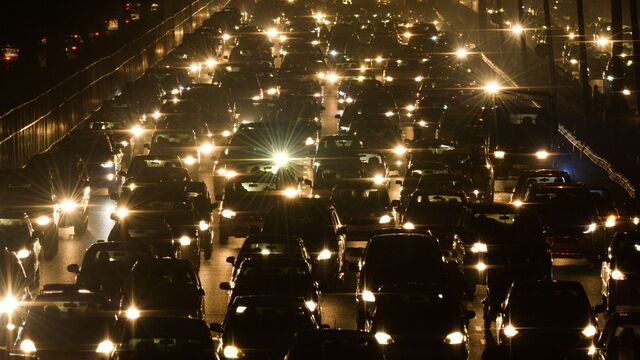 BMW AG topped its rival in the U.S. luxury auto market for the first time this year, eking out a monthly sales increase and gaining ground on Daimler AG's Mercedes-Benz.
Deliveries of the X3 and X5 sport utility vehicles climbed 43 percent and 35 percent last month, respectively, pacing BMW's total sales of 31,015 vehicles. The Munich-based automaker outsold Mercedes by about 1,900 units in March.
As plummeting demand for passenger cars led most automakers to miss analysts' estimates last month, BMW managed to keep deliveries of its 3 Series and 5 Series models roughly flat compared with a year earlier. The victory in March pulled BMW to within 7,500 vehicle sales of Mercedes through the first three months of the year.
"Our new BMW 5 Series is just breaking into what is a difficult market for sedans but orders are solid," Bernhard Kuhnt, chief executive officer of BMW's North American unit, said in a statement. "With two more variants on their way, we are optimistic for the months ahead."

BMW ceded the global sales title to Mercedes in 2016, falling behind its rival for the first time in years. CEO Harald Krueger is planning to respond by unveiling 40 vehicles over the next two years, the biggest rollout of new and revamped models in BMW's history. Its sedan-heavy lineup has put it at a disadvantage in a market where Americans are increasingly opting for crossovers, said Michelle Krebs, an analyst with Autotrader.com.
"BMW has sport utility vehicles, but it's not its great strength," she said by phone.
Mercedes has sold 79,141 vehicles in the U.S. this year through March, compared with BMW's 71,682 units. The laggard in the Mercedes lineup last month was the entry-level CLA coupe, with deliveries plunging 52 percent.
Both manufacturers are focused on selling larger, higher-margin vehicles in order to help finance a push into electric self-driving autos. Mercedes last week said it's accelerating its rollout of battery-powered models, with 10 new versions now due by 2022.
Volkswagen AG's Audi said deliveries rose 1.7 percent to 18,705 vehicles in March, boosted by an 18 percent increase for the Q5 SUV. Sales for Toyota Motor Corp.'s Lexus line fell 7.5 percent, driven by a 28 percent slump in passenger car sales.
Shares of the German carmakers were lower at 9:56 a.m. in Frankfurt trading, with BMW slipping 1.7 percent, Daimler declining 1.3 percent and Volkswagen down 1.3 percent.
— With assistance by Jamie Butters
Before it's here, it's on the Bloomberg Terminal.
LEARN MORE