Ballot Selfies Allowed as U.S. Supreme Court Rebuffs New Hampshire
By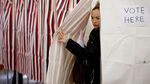 Voters in New Hampshire are free to take selfies with their election ballots and post the photos online after the U.S. Supreme Court refused to revive a state ban on the practice.
The justices, without comment, left intact a federal appeals court ruling that struck down the ban on free-speech grounds in September. The 2014 law subjected violators to fines of up to $1,000.
New Hampshire officials argued that the measure was a legitimate effort to prevent vote-buying in the digital age. The appeals court rejected that contention, saying the law was far broader than necessary to address that concern.
Three voters under investigation for potential violations challenged the measure in court. They urged the Supreme Court not to hear the New Hampshire appeal.
The case is Gardner v. Rideout, 16-828.
Before it's here, it's on the Bloomberg Terminal.
LEARN MORE