AIG `Morale Problem' Seen Hurting Returns as UBS Cuts Estimates
By
CEO's resignation may worsen already low morale, UBS says

Bank analyzed more than 6,300 Glassdoor reviews in industry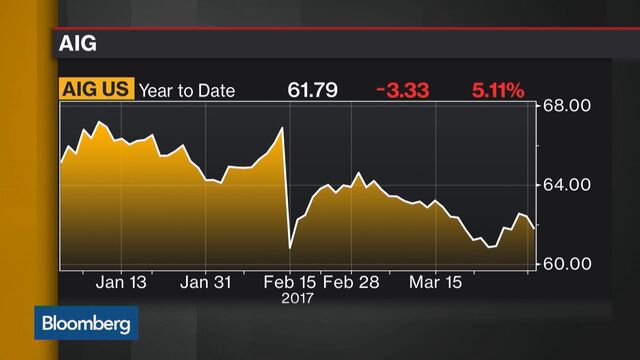 American International Group Inc. employees are becoming more discouraged amid job cuts and deteriorating results, pressuring the insurer's effort to improve margins after Chief Executive Officer Peter Hancock announced his plan to depart, according to UBS Group AG.
"The CEO resignation creates more uncertainty, hurting already low morale in the organization, which could further hurt underwriting returns," analysts led by Brian Meredith said in a note Monday after analyzing more than 6,300 employee reviews across the insurance industry on job-search website Glassdoor.
UBS lowered its estimates for AIG's earnings for this year to $4.90 a share from $5, citing challenges in the property-casualty operation, which requires experienced underwriters to evaluate possible risk-transfer deals and maintain relationships with clients. Hancock, who led the P&C unit before becoming CEO in 2014, said March 9 that he will leave after the board finds a successor.
AIG has posted losses four out of the last six quarters, hurt by larger-than-expected claims costs at the P&C unit. Part of Hancock's strategy was to reduce costs by dismissing staff and moving jobs to lower-cost locations. Meredith found that AIG was in the last place among its peers for categories that include employee satisfaction with career opportunities, senior management and compensation.
'More Difficult'
"While new leadership may be a positive, uncertainty over the CEO transition is
likely exacerbating the morale problem," Meredith said in the note. "Our concern is that a loss of underwriting talent at AIG will make it more difficult to achieve the ambitious goals in commercial P&C."
Travelers Cos., which posted eight straight years of stock gains through the end of 2016, ranked No. 1 overall.
AIG dropped 98 cents, or 1.6 percent, to $61.45 at 11:54 a.m. in New York. The insurer has slumped 5.9 percent since Dec. 31, missing out on gains in the S&P 500 Financials Index. Jennifer Sullivan, a spokeswoman for New York-based AIG, had no immediate comment.
Senior leaders who left since the end of 2015 include former Chief Information Officer Phil Fasano, ex-Chief Financial Officer David Herzog and Brian Schreiber, who was the head of strategy. Warren Buffett's Berkshire Hathaway Inc. and Starr International Co., led by ex-AIG CEO Maurice "Hank" Greenberg, are among rivals who have hired other former AIG managers.
Before it's here, it's on the Bloomberg Terminal.
LEARN MORE