S. Africa's DA Starts Disciplinary Process Against Former Leader
Paul Vecchiatto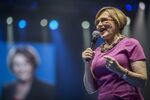 South Africa's main opposition party, Democratic Alliance, has started a formal disciplinary process against its former leader, Helen Zille, after she appeared to defend colonialism in a Twitter posting last month.
The party's legal commission has found there is a case for Zille to answer as she has brought the party's name into disrepute, DA Leader Mmusi Maimane told reporters in Cape Town on Sunday. "This is a very difficult decision taken by the Federal Executive of the party," he said.
Zille later apologized for her comments, but they offended many black South Africans whose ancestors lost their land and civil rights under colonial rule and continue to feel the effects of its legacy. While a failure to discipline Zille may have frustrated the DA's ambitions of securing a greater share of the black vote in national elections in 2019, doing so could cost it the support of white and mixed-race voters in the Western Cape, where Zille has strong backing.
Zille is premier of the Western Cape, the only province not run by the ruling African National Congress. The DA won 27 percent of the vote in municipal elections in August, and together with other opposition parties seized control of several major cities, including the commercial hub of Johannesburg and the capital, Pretoria, from the  ANC.
Maimane, who succeeded Zille as DA leader in 2015, has distanced himself from Zille's comments and ordered her to face the official inquiry.
"My job is to grow the party and put forward the non-racialism project," he said Sunday.
Before it's here, it's on the Bloomberg Terminal.
LEARN MORE