politics
Morrison May Revive Australian Business Tax Push Before Election
By
Government on Friday passed tax cuts for smaller companies

Could try passing measures for big business if Senate amenable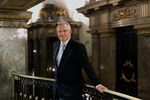 Australian Treasurer Scott Morrison could seek to push through legislation before the next federal election to implement parts of the government's business tax plan that have been stymied by parliament.
The Liberal-National government was forced to water down measures to get the support of upper house lawmakers, with amended legislation passed on Friday only providing tax cuts for businesses with annual revenue of less than A$50 million ($38 million). Morrison said on Sunday that this is merely "stage one" of the government's plan and that he would aim to present additional measures when it looks as though the Senate might be in a position to agree to them.
"I was encouraged by the progress we were able to make," the Treasurer said in a television interview with the Australian Broadcasting Corp. "If the Senate is in the position to look at this before the next election, then we would be more than happy to bring those things forward."
The tax reductions were the cornerstone of Morrison's annual budget announcement last May and were aimed at spurring growth in the economy as it shifts away from its reliance on mining investment. While Prime Minister Malcolm Turnbull held on to power at the subsequent federal election in July, he is working with a reduced majority and opposition parties have rejected the cuts for big business.
In Limbo
What has been agreed is that the rate paid by companies with revenue of less than A$10 million will be immediately lowered to 27.5 percent from 30 percent, and that reduction will be extended to companies with revenue of less than A$50 million within three years. Turnbull's plan to cut the tax rate for all companies to 25 percent over the next decade remains in limbo.
"The big economic benefits will come from the whole economy being included, down to 25 percent, and we'll continue to argue for that," Business Council of Australia Chief Executive Officer Jennifer Westacott said in an interview with Sky News on Sunday. She said that while the current agreement would provide real flow-on effects for the economy, the BCA hoped it would build momentum to get the entire package through.
Senate Hurdles
The government currently requires the support of either the opposition Labor Party or lawmakers from minor parties to get bills through the upper house. The next federal election could be held as late as 2019, and Morrison said there could be another push on company taxes before then.
"It's a pragmatic parliament and I think we've demonstrated a lot of capability to get things done in this parliament," he said.
Morrison reiterated the government's view that the corporate tax reductions are essential to ensuring Australia's competitive position as other countries such as the U.S. look to lower company taxes.
Andrew Leigh, a lawmaker from the opposition Labor Party who speaks on Treasury matters, told Sky News that while "in a perfect world you would bring down the company tax rate," the federal government has seen its debt burden increase over recent years. "You need to look beyond this narrow debate over company taxes to the broad range of questions that affect a company's decision to invest in Australia," he said.
The Treasurer, who is due to give another fiscal update next month, said that while "goal one remains growth," the government must also "live within its means." The budget is currently forecast to return to balance by 2021, according to the most recent official documents, although Morrison emphasized he is not promising such an outcome. Over recent years, budget projections for a return to balance or surplus made by both Liberal-National and Labor governments have been pushed back repeatedly.
While the Treasurer said that almost two thirds of the budget improvement steps proposed by the government last May have been implemented since the election, a slew of savings measures remains blocked in parliament and S&P Global Ratings has warned that the government is at risk of forfeiting its AAA credit score.
When asked about whether any taxes would be increased in the budget, Morrison said that would be addressed in the May announcement.
Before it's here, it's on the Bloomberg Terminal.
LEARN MORE