markets
Japanese Corporate Sentiment Improves on Better Profits
By and
Weaker yen has helped company profits rise to a record

Companies won't increase capital spending much this year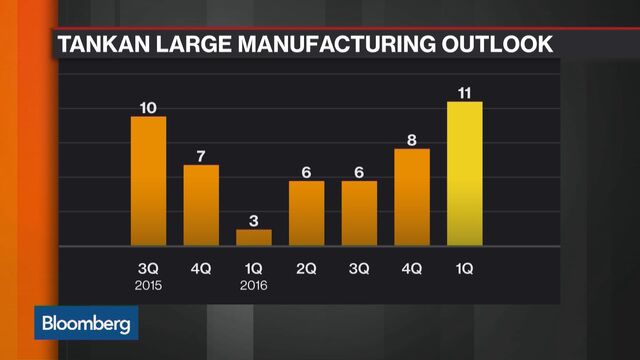 Confidence among Japan's large manufacturers improved for a second consecutive quarter in the first three months of the year as a weaker yen helped profits rise to a record.
Key Points
Sentiment among large manufacturers rose to 12 from 10 three months ago (forecast 14), according to the Tankan survey released by the Bank of Japan on Monday.
The outlook among the manufacturers increased to 11 from 8 in December (forecast 13).
Large companies across all industries plan to raise fixed investment by 0.6 percent for the year starting this month, the survey found.

Big Picture
Rising profits and improving sentiment don't always result in capital spending in Japan, where a record corporate cash pile has confounded economists and policy makers. A sustainable recovery depends on companies putting those profits into investment and wages, something they've been reluctant to do in recent years. Early results from this year's spring wage negotiations between Japan's biggest employers and unions suggest pay increases will remain small this year.
Economist Comments
"The results simply confirm the economy is recovering," said Takeshi Minami, chief economist at Norinchukin Research Institute, who correctly forecast the large manufacturer Tankan. "Exports are picking up and that's having a positive impact on production and capital investment. Corporate earnings are good."
The outlook, especially for large companies with a global presence, has to be cautious because of uncertainty over President Donald Trump's trade policy and Brexit, he said. 
Companies forecast the yen would trade a bit higher than it is now, so it will be positive for corporate earnings if it stabilizes at the current level, Minami said.
Companies' capital spending plans were actually stronger than market expectations, which suggests that they're not so worried about the future, Nomura Securities Co Ltd Senior Economist Masaki Kuwahara said on Bloomberg TV.
The assumed dollar-yen rate is lower than current levels, so I think there is a potential for upward revision of the business outlook in the future, Kuwahara said.
"The rise in confidence wasn't as strong as expected and that's a sign of cautiousness amongst companies," said Takashi Shiono, an economist at Credit Suisse Group AG.
The 'Trump rally' is unwinding and the outlook for the U.S. economy is increasingly unclear, he said. 
Companies, especially in the service sector, must be feeling the labor shortage, Shiono said after the data.
Details
Large manufacturers forecast the yen will trade at 108.43 per dollar for the year ending in March 2018. The forecast for last fiscal year was 104.90 in the report three months ago. The yen was at 111.25 at 9:44 a.m. on Monday in Tokyo.
— With assistance by Connor Cislo
Before it's here, it's on the Bloomberg Terminal.
LEARN MORE