Fillon Steps Up Macron Attacks With Eye on French 2nd Round
By
With Le Pen 2nd-round defeat seen, strong 1st-round vote key

Macron and Le Pen are likely to get to 2nd round, polls show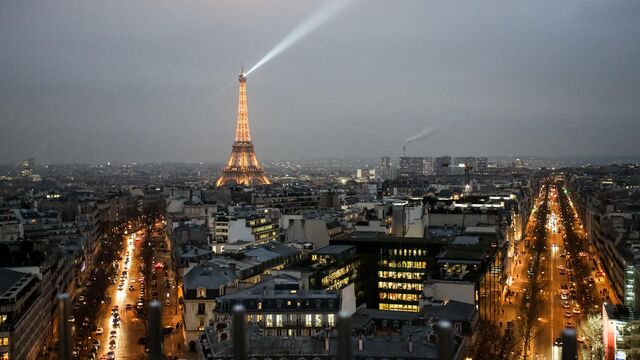 French presidential candidate Francois Fillon stepped up attacks against rival Emmanuel Macron as the battle to get into the second round of the ballot heated up.
With three weeks to go before the first round of the election on April 23, polls show that Macron and anti-immigration, anti-euro National Front candidate Marine Le Pen will face off in the second round. Macron is likely to defeat Le Pen by a large margin in the decisive vote on May 7, most surveys show.

In political meetings on Saturday, Republican candidate and former prime minister Fillon, 63, focused his fire on dislodging Macron from the first round, saying the independent candidate marks a continuation of the government of Socialist President Francois Hollande.
"Macron pretends to be a dissident," Fillon said during a meeting in Corsica. "Mr. Macron has nothing of the revival but everything of the Ancien Régime. He's dressing up his candidacy with some eagle feathers, but it's still in the Socialists' backyard." At a meeting in Toulon on Friday, he called Macron "a prince of ambiguity."
The attacks from Fillon and his camp are becoming more pointed as 39-year-old Macron, who was a minister in Hollande's government and has positioned himself as a centrist candidate, eats into the Republican candidate's support. Fillon has been charged with employing his wife and children in allegedly fake taxpayer-paid jobs and has been entangled in other scandals.
Tweet Attacks
"There has been a flood of tweets" against Macron, centrist former presidential candidate Francois Bayrou, who now supports Macron, said in an interview on LCI TV on Sunday. "This campaign by supporters of Francois Fillion was a hysteria. This needs to stop."
Bayrou dismissed Fillon's attempts to suggest that a Macron government would be the continuation of Hollande's program, saying the independent candidate is very different from the current French president, and adding, "Macron did quit Hollande's government."
In addition to Bayrou, Macron has the support of Renaud Dutreil and Dominique Perben, former ministers under conservative President Jacques Chirac. Former Socialist Prime Minister Manuel Valls has also said he will vote for Macron in the first round. 
Macron Responds
Macron raised eyebrows when met with a regional Republican party leader, Christian Estrosi, in Marseille on Saturday in what he characterized as a "courtesy visit."
At a meeting in the southern French city, Macron reacted to Fillon's comments, saying, "He no longer has a program, so he attacks others. He can no longer reach out to the French, so he's getting ensconced with his clan."
According to a BVA poll published on Saturday, Macron would get 25 percent of the first-round vote, followed by Le Pen at 24 percent. Fillon is in third place with 19 percent. Macron would beat Le Pen in the second round with 60 percent of the vote, the poll shows
Before it's here, it's on the Bloomberg Terminal.
LEARN MORE