markets
South African Finance Minister Gigaba Seeks Inclusive Growth
By
Newly appointed minister pledges to stick to fiscal framework

Government wants to use vast procurement to push for change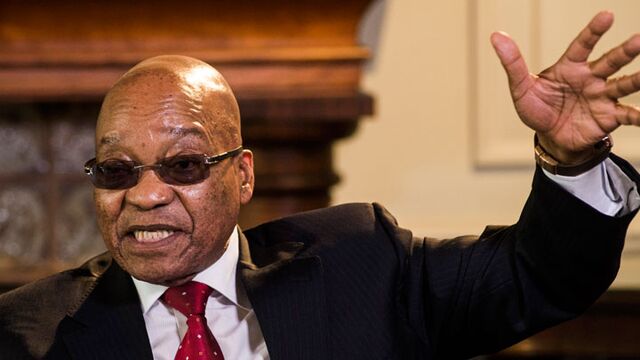 South African Finance Minister Malusi Gigaba said he will use the National Treasury to push for inclusive economic growth while sticking within spending frameworks already put in place.
"There need not to be a contradiction between inclusive growth and radical economic transformation; there can be no economic progress that leaves the majority of our people behind," he told reporters in Pretoria, the capital, on Saturday. "We will stay the course in terms of the fiscal policy stance approved by government."

Gigaba succeeds Pravin Gordhan, a favorite of investors who was dumped by President Jacob Zuma this week after months of sparring over control of the Treasury, the management of state-owned companies and the affordability of building nuclear plants. Zuma is seeking to drive a program of "radical economic transformation" that he says will move wealth to the majority black population in an economy still dominated by whites almost 23 years after apartheid ended.
The government "will use state procurement strategically and vigorously, to ensure localization, promotion of black-owned, women-owned, youth-owned enterprises and SMMEs, and to facilitate industrialization" Gigaba said. "We remain unapologetic about using the state's spending power to grow black enterprises."
Credit Rating
Gigaba said the government remains committed to maintaining South Africa's investment-grade credit rating. He will be meeting Reserve Bank Governor Lesetja Kganyago next week and the head of the tax agency on Monday in an effort to improve relations between his department and the South African Revenue Service.
Zuma is facing a widening public backlash from senior members of the ruling African National Congress including his deputy, Cyril Ramaphosa, after he fired Gordhan in sweeping changes to his cabinet. ANC Secretary-General Gwede Mantashe said Zuma didn't consult the party's top six leaders about most of the cabinet changes, saying a list of nominees "was thrown at us." The party's chief whip in parliament, Jackson Mthembu, said he opposed the removal of Gordhan and his deputy, Mcebisi Jonas.
The opposition Democratic Alliance described Zuma's actions as a "hostile takeover" of the Treasury in a statement on Saturday and said it will continue to push for a special sitting of parliament to debate a motion of no confidence in the president.
'Reckless Action'
ANC stalwarts and veterans decried the president's move in an emailed statement on Saturday, saying Zuma ignored advice on the changes in defiance of the party's principles, leaving the 105-year-old movement facing the "unacceptable reality of corruption, nepotism and self-interest." The South African Communist Party, which governs in an alliance with the ANC, on Friday called for Zuma to resign because his "reckless actions" again plunged the movement and country into a deep crisis.
While he was shocked at his appointment as finance minister, Gigaba said he was "up to the task" and he will work to allay fears of investors and ensure the Treasury moves forward in a "prudent manner."
There are no projects that Zuma had asked Gigaba to "rubber stamp" and no court cases against the Gupta family, who are friends of the president and in business with his son, will be dropped, he said. The former finance chief came under pressure from members of the family to intervene after the nation's biggest banks shut their company accounts, eventually leading Gordhan to ask the courts to rule that he has no jurisdiction over who banks choose as clients.
The country's nuclear project will only move at a "pace and scale" that is within the country's fiscal framework, Gigaba said. National Treasury Director General Lungisa Fuzile said that while change sometimes scares people, the team are filled with professionals, and change doesn't always need to bring negativity. Interactions so far with the minister, have been "very easy," Fuzile said.
Before it's here, it's on the Bloomberg Terminal.
LEARN MORE