Your Evening Briefing
Here are today's top stories.
By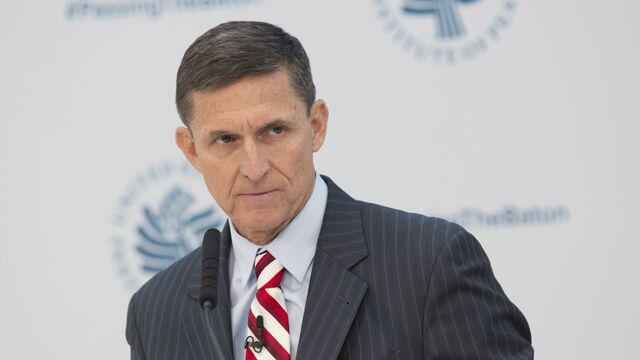 Want to receive this post in your inbox every afternoon? Sign up here.
Financial firms need to keep records of all written business communications, no matter how innocent, according to the SEC. Banks routinely check emails and chats on company devices, and restrict personal phones.
But across the financial world, according to almost two dozen employees who spoke with Bloomberg, everyone from traders to bankers to money managers ignores these policies, using messaging apps to send photos of unsuspecting colleagues on the trading floor (and much more). Sound familiar? —Megan Hess
Trump endorses Flynn's bid for immunity to testify about Russia connections. Mike Flynn, President Trump's former national security adviser, told investigators he's willing to be interviewed in return for immunity from prosecution. Trump echoed the statement on Twitter Friday, calling investigations into alleged contacts between his administration and the Russian government a political "witch hunt." The top Democrat on the House Intelligence Committee, Representative Adam Schiff, said Flynn would have to go through several steps before lawmakers would consider the exchange.
Wall Street's new favorite way to swap secrets. Dirty jokes and legally dubious information are increasingly sent by financial types via encrypted message services like WhatsApp and Signal. Just about everyone in the money industry is embracing these apps as a virtually untraceable way to circumvent compliance, get around HR, and keep bosses in the dark.
SpaceX made history. Elon Musk's SpaceX flew a reused rocket to space and back again, a key milestone to reducing launch costs and one day enabling people to live on other planets. A SpaceX Falcon 9 rocket put a customer's satellite in orbit, landed on a drone ship in the Atlantic Ocean, and drew raucous cheers from the crowd at the company's California headquarters. The moment was 15 years in the making.
Steve Eisman of "The Big Short" is concerned about subprime auto loans. "Banks make mistakes on credit quality and we are in an environment where credit quality has never been this good in anyone's lifetime, with the one exception of subprime auto," Eisman said in a Bloomberg TV interview on Friday. Subprime car debt is becoming the latest problem area in finance, with consumers falling behind on most of their loans, Morgan Stanley analysts said this week.
Airlines make more money selling miles than seats. Airline-branded credit card programs are a cash cow. Each mile fetches an airline anywhere from 1.5 cents to 2.5 cents, and the big banks amass those miles by the billions, doling them out to cardholders each month. The airline-miles business, formally known as loyalty programs, has grown in size and value amid airline consolidation.
The high price of Putin's takeover of Crimea, in photos. Three years after Vladimir Putin annexed the peninsula from Ukraine in a bloodless coup, some residents say it's a struggle just to get by. They live with the powerful sting of western sanctions, the economic fallout of being cut off from much of the world, and the high cost of living that flows from both. Meanwhile, the Russian government contends the Crimean economy is looking up.
Walt Whitman is not impressed by your expensive gym membership. In 1858, two years before publishing his landmark third edition of Leaves of Grass, the American poet wrote a series of newspaper columns under the pseudonym Mose Velsor on the subject of "Manly Health and Training." He advocated for beards, a diet of rare-cooked beef, and the "tonic and sanitary effects of cold water."

Before it's here, it's on the Bloomberg Terminal.
LEARN MORE