markets
Venezuela Bonds Fall Most in Two Years on Political Uncertainty
By and
Benchmark notes due in 2027 fall most since January, 2015

State oil company PDVSA facing payments of $2.5b in April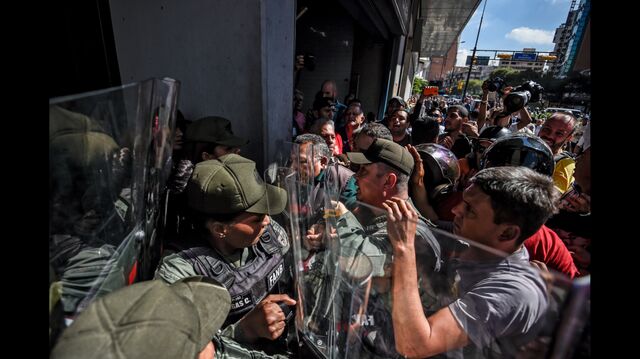 Venezuela's dollar bonds fell the most in two years on Friday as rising political uncertainty in the South American country rekindled concern over a default ahead of a multibillion-dollar payment due next month.
The country's benchmark bond due in 2027 declined 3.4 cents to 46.1 cents on the dollar at 10:08 a.m. in New York, the biggest decline on a closing basis since Jan. 2015, according to data compiled by Bloomberg. Bonds issued by state oil company Petroleos de Venezuela SA were also down significantly, with the $3-billion of notes due in 2035 declining 3.7 cents to 41.3 cents on the dollar.

Small, sporadic protests were taking place in parts of Caracas on Friday morning after the Supreme Court earlier in the week invalidated the opposition-controlled National Assembly, causing many to fear that the country was sliding closer toward dictatorship. PDVSA, as the state oil company is known, has to pay around $2.5 billion next month in principal and interest payments, and investors are increasingly wondering if it will be able come up with the cash amid ongoing concerns about liquidity.
"Many of the bonds are trading below recovery value, but these recent moves do not inspire confidence that there can be a political transition without shock to the system," said Stuart Sclater-Booth, a money manager at Stone Harbor Investment Partners in New York. "A regime change will not be an easy transition, and default could be an outcome."
Venezuelan President Nicolas Maduro and his economy czar Ramon Lobo both suggested last week that the country would continue to honor its foreign debt obligations.
— With assistance by Fabiola Zerpa
Before it's here, it's on the Bloomberg Terminal.
LEARN MORE