Turkey's Kurtulmus Says Switch Should Be Quick After Referendum
By , , and
Current system 'like a carcass on our backs,' deputy PM says

2019 date for transition set as condition by opposition MHP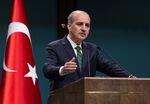 Turkey should prepare for a rapid transition to a presidential system should it be approved at a referendum on April 16, Deputy Prime Minister Numan Kurtulmus said in an interview.
The change could happen faster than the two-year time-frame negotiated with a key opposition party, Kurtulmus signaled Thursday at his office in Ankara. "After a 'yes' vote, I think there won't be any resistance left," he said. The required amendments to Turkish laws "could be passed rapidly." Kurtulmus didn't comment on the possibility of an early election to enact the changes.
Polls suggest the Turkish public is almost evenly split over the government's proposal, which will expand the powers of President Recep Tayyip Erdogan. Kurtulmus said support for the package of constitutional amendments is trending upward, and he expects it to pass. "The current system is like a carcass on our backs, and we need to get it off immediately," he said. But if Turks vote 'no' then the government will respect the people's will, he said.
'On Hold'
Erdogan has led Turkey since 2003, first as prime minister and then as the country's first elected president after 2014. Previous occupants of the post were chosen by parliament and their role was largely ceremonial. The president's drive to reshape the system has added to uncertainty in a country that's seen a failed military coup and a series of terror attacks in the past year.
"I know that billions of dollars in investment are on hold," Kurtulmus said. "In every field - industry, spare parts and high technology."
Kurtulmus also said that the purge of people linked to the coup attempt hasn't finished. The government has until April 19 to decide on whether to extend a state of emergency giving it additional authority to go after supporters of the religious group it blames for the putsch. The issue of extension didn't come up at Wednesday's meeting of the National Security Council, he said.
"This is a struggle that will take many years," Kurtulmus said, referring to efforts to purge followers of U.S.-based imam Fethullah Gulen from the bureaucracy. "They still have a serious presence," and "we know that there are those who are walking in the snow without leaving any tracks."
'Social Problem'
The ruling party itself isn't immune, Kurtulmus said when asked why senior party officials with known connections to the Gulen group haven't been among those targeted. If any links are proven then "whatever needs to be done will be done," he said. The government is seeking to distinguish Gulen group followers who weren't a threat from those who were, so as to avoid "a social problem" in the future, he said, without elaborating. Tens of thousands of alleged Gulen supporters have lost their jobs and been stigmatized as supporters of a terrorist organization.
In Syria, Turkey is awaiting decisions from Russia and the U.S. on how they'll proceed with operations against Islamic State, Kurtulmus said. He said Turkey will continue to object to any collaboration with the Kurdish PYD, which is seen as a useful battlefield ally by the U.S. and as a terrorist organization by Turkey.
Turkey hasn't necessarily finished its own military operations in Syria, Kurtulmus said. Erdogan's government sent troops in last August, in a campaign named Euphrates Shield, and they've clashed with both Islamic State and Kurdish fighters. Turkey declared an end to Euphrates Shield this week because it had accomplished its goals of clearing a space in Syria for refugees to return to, but other operations including an advance on the city of Manbij could be carried out under another name, Kurtulmus said. "As long as there's PYD in Manbij, it's a target for us."
Kurtulmus said the government has no short-term plans to hold a referendum on abandoning Turkey's European Union membership bid, a prospect raised by Erdogan amid an escalating dispute with EU leaders this month. The deputy premier said he was hopeful that current tensions could be calmed following Turkey's April 16 vote and a series of elections in Europe. But he said that Turkey will take unspecified action if the EU doesn't abide by commitments, including visa-free travel for Turks, that it made as part of a deal to halt the flow of refugees.
Before it's here, it's on the Bloomberg Terminal.
LEARN MORE