Tillerson's Hard Power Focus Leaves Little Room for Human Rights
By
Secretary didn't meet with opposition, rights groups in Turkey

'Endless PR campaign' isn't Tillerson's style, analyst says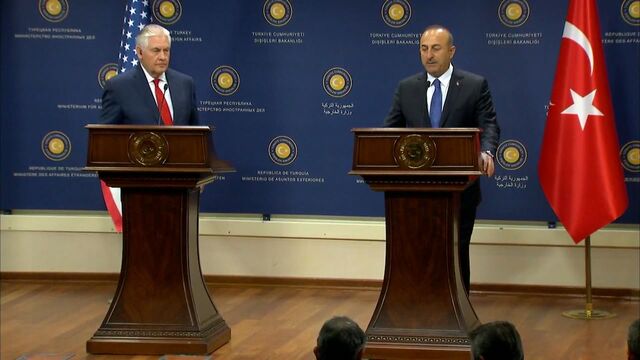 Just a few feet from Secretary of State Rex Tillerson, Turkey's foreign minister stood at a podium lambasting the U.S. for supporting Kurdish fighters in Syria, refusing to extradite a cleric his government blames for a 2016 coup attempt and arresting a banker accused of sanctions violations.
Tillerson didn't take the bait. He conceded the two NATO allies had some "difficult" decisions to make, but he focused on the positive. And he eschewed any mention of Turkey's slide toward authoritarianism -- which had drawn sharp criticism from his predecessor John Kerry -- or its dubious status as the the world's leader in jailing journalists.
The former Exxon Mobil Corp. chief executive officer's approach in Turkey highlighted a trend that's become more stark in the two months he's been on the job. Taking up President Donald Trump's "America First" mantra, he's focused on hard-power issues such as the fight against Islamic State, while de-emphasizing the historic U.S. defense of human rights, at least in public. 
On his visit to Ankara on Thursday, the secretary didn't schedule any meetings with opposition leaders or human rights groups troubled by the government's response to a failed coup last year. He didn't question efforts by President Recep Tayyip Erdogan to consolidate power in a referendum next month. Before arriving, Tillerson signed off on a proposed sale of Lockheed Martin Corp. F-16s to Bahrain that the Obama administration had held up over human rights concerns, and in February he failed to attend the annual unveiling of his department's own human rights report.
Different From Kerry
The shift in tone is intentional, according to James Carafano, director of foreign policy studies at the Washington-based Heritage Foundation who was involved in the Trump transition. He said Tillerson is choosing to be more selective about where and when he speaks out and isn't worried if critics take aim at the differences between him and Kerry, who led very public efforts to pass a nuclear deal with Iran, halt the civil war in Syria, reopen diplomatic ties with Cuba and broker a global deal on climate change.
"Under Kerry, it was more important to demonstrate we had a global agenda on all these issues," Carafano said. That's not the case now, especially in Tillerson's early months, he added. "It's a CEO administration, and they are less concerned with the larger atmospherics."
Tillerson's immediate focus is on a narrower set of key issues: fighting Islamic State, confronting North Korea's nuclear program and, if Trump gets his way, managing the State Department through plans to slash more than 30 percent of its funding.
'Endless PR Campaign'
"They're not going to ignore the human rights agenda, but the notion of running this endless PR campaign, it's not Tillerson's style and it's not the administration's aesthetic," Carafano said.
Tillerson has made clear the break with Kerry and other former secretaries of state. He dispensed with the State Department's daily press briefing for his first six weeks in office and will do without one again until incoming spokeswoman Heather Nauert finishes her security vetting. Instead, his office has opted for background calls by senior officials speaking on condition of anonymity.
"The secretary is mission-motivated," spokesman R.C. Hammond said, saying of Islamic State: "Right now the mission is ending ISIS."
Critics of Trump's foreign policy knock the administration's approach to the world: They say the U.S. is ceding its role in the world by taking steps such as restricting refugee admissions and by focusing on hard power. Susan Rice, who was former President Barack Obama's national security adviser, has said the administration's approach to refugees makes the U.S. "weaker not stronger."
Staff Mantra
In his first speech to the State Department staff, Tillerson said his primary goal was to keep them safe, offering little in the way of a foreign policy vision. Instead he offered a message he has since repeated, saying he wanted employees to abide by the principles of respect, accountability and honesty. That left some who were seeking a broader definition of priorities dismayed.
The Turkey visit encapsulated many of those concerns. Ahead of the country's April 16 referendum, supporters of the proposed constitutional changes say handing Erdogan sweeping new authority is the only way to achieve the stability that society craves and businesses need to thrive. Opponents say backing the changes is an invitation to dictatorship, particularly since Erdogan, already the most dominant Turkish leader in eight decades, jailed or fired more than 100,000 perceived enemies after rogue army officers attempted a coup in July.
Kerry denounced Erdogan's post-putsch crackdown as violating NATO's standards of democracy, prompting the military alliance's secretary general to issue a statement of reassurance that Turkey's membership wasn't in doubt.
'Anti-Western'
"I am struck by the extent to which the U.S. has so far stood by Ankara even as it slips ever more towards appearing as anti-Western," said William Park, a lecturer at King's College, London University, who studies Turkish politics. "I guess use of the Incirlik base and such intelligence cooperation as there might be, plus the myriad NATO facilities in the country, all oblige governments to take a deep breath."
Tillerson hasn't stayed entirely out of the human rights debate. In China this month, he said in a briefing alongside Foreign Minister Wang Yi that the U.S. would "continue to advocate for universal values such as human rights and religious freedom." And the State Department issued a statement on March 26 saying the arrest of hundreds of anticorruption protesters in Russia was "an affront to core democratic values."
Tillerson's stance isn't entirely new, reflecting a difference between Democrats and Republicans going back at least to Richard Nixon, according to Richard Boucher, an assistant secretary of state under secretaries from both parties.
"We went from Jimmy Carter starting to have a serious human rights policy to Ronald Reagan backing off on anything except Communists, and before that I don't think Nixon and Kissinger were ever accused of having a human rights policy," Boucher said.
At the same time Boucher said other countries do pay attention to U.S. expressions of values, and by championing them, American officials can persuade others to follow.
"The art of the deal is not the same as creating an international environment where the United States prospers," Boucher said, referencing the title of Trump's book from the 1980s. "If you just go for this deal and that deal, you're missing a bigger picture of what the United State stands for in the world, how the United States molds conditions so that others have to play our game instead of us playing theirs."
— With assistance by Selcan Hacaoglu
Before it's here, it's on the Bloomberg Terminal.
LEARN MORE