South Africa's Dlamini Admits Welfare Payments Threatened
By
Beneficiaries get grants across country as contract extended

Minister says she regrets anxiety caused over crisis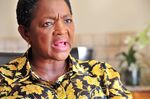 South African Social Development Minister Bathabile Dlamini admitted for the first time that the failure of her department to comply with a 2014 court order could have led to more than 17 million welfare recipients not getting their checks.
Dlamini said she hadn't willfully engineered the crisis. She was commenting in court papers where she explained why she shouldn't pay legal costs after the South African Social Security Agency was found at fault in a case heard by the Constitutional Court this month.
The agency failed to comply with an earlier order to find a company to distribute welfare payments after a contract with Net1 UEPS Technologies Inc. was declared invalid. On March 17, the court ordered Net1 to continue the payments for another year under a process it will supervise after an application was brought by human rights group, The Black Sash Trust. The department had planned a new contract with Net1 and said it didn't need court permission. That was "disingenuous," she said.
"I must at the outset express my personal contrition and regret for the anxiety it must have caused South Africans and especially the recipients of the social grants" that from April 1 there would not be a way to legally make the payments, she said in the court filing. "I accept the concern expressed by this court that the interests of the beneficiaries of social grants stood a real risk of being compromised."
Payments Made
Payments were made to more than 2.6 million beneficiaries across the country by 10 a.m. in Johannesburg on Saturday, the government said in an emailed statement.
Opposition parties and labor union allies of the ruling African National Congress had called for Dlamini to resign over the risk that the 151.6 billion rand ($11.3 billion) per year program would be interrupted.
Net1 has been accused of using information gathered on grant beneficiaries to sell services ranging from mobile-phone airtime to loans to some of South Africa's poorest people without them always understanding what they were agreeing to. It has denied the allegations.
Dlamini has until now insisted that the payment of grants in April was not under threat.
The minister was retained during a cabinet reshuffle by President Jacob Zuma this week, which resulted in the firing of the finance minister and his deputy in a move the opposition Democratic Alliance described as a "hostile takeover" of the National Treasury. Zuma appointed Faith Muthambi as minister of public service and administration even after her fitness to hold office as communication minister was questioned by a parliamentary oversight committee.
Mineral Resources Minister Mosebenzi Zwane remains in his job after flying to Switzerland to speak to Glencore Plc Chief Executive Officer Ivan Glasenberg about selling a coal asset to a company in which Zuma's son and his friends, the Gupta family, held stakes. Cooperative Governance Minister David van Rooyen keeps his post. The graft ombudsman said in a report that he'd had questionable dealings with members of the Gupta family. The minister, Zuma and the Guptas deny wrongdoing.
Before it's here, it's on the Bloomberg Terminal.
LEARN MORE