Oi Spurns `Intellectually Dishonest' Calls for Takeover by State
By
Customer satistfaction improving, Tanure says in interview

Government laying legal groundwork to intervene in company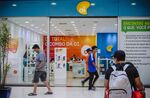 Oi SA and one of its largest shareholders are pushing back against calls for a government takeover to usher the Brazilian phone company out of bankruptcy protection.
Groups unhappy with the company's restructuring plan are pressuring the government to intervene, even though the bankruptcy process is following its course and operations have been unaffected, said Nelson Tanure, the company's second-largest shareholder. He didn't say who he suspects of lobbying the government, which has been laying the legal groundwork to replace Oi's executive team if service begins to deteriorate.
"There is an intellectually dishonest game going on here," Tanure said in an interview in Rio de Janeiro. "Oi improved all its clients' satisfaction indexes since filing for bankruptcy, but there is a heavy lobby in Brasilia" for the intervention, he said.
Bondholders representing a majority of Oi's creditors rejected the company's latest proposal to restructure $19 billion in debt, saying it still heavily favors shareholders. The plan would let bondholders swap their debt for a stake that could eventually reach 38 percent, far less than the 95 percent one group of debtholders has proposed. Oi must win approval from creditors and other stakeholders to exit bankruptcy, and the company has said it is listening to feedback from the other parties about the new plan.
A government takeover would take place in case of an imminent deterioration of Oi's telecommunications services, Telecommunications Secretary Andre Borges said in an interview last week. Telecommunications regulator Anatel would choose an executive with the proper expertise to run Oi, he said. "Our only concern is that services be maintained," Borges said.
A draft of the decree giving the government the option to take over Oi's operations is likely to be published in the coming days, newspaper Valor Economico said Friday. The government won't immediately intervene in the company after the decree is published, giving shareholders a last chance to push for an agreement with creditors, Valor said.
While Bloomberg's interview with Tanure was taking place Friday, Oi released a statement saying management is "committed to the company's sustainability, and the positive results it's been getting show the company's viability and operational strength." Oi reported fourth-quarter operating profit last week that beat analysts' estimates, and the phone carrier ended 2016 with 7.85 billion reais ($2.5 billion) in cash.
A government takeover of the company's management would disrupt operations and cause losses for all the parties involved, Tanure said.
"Oi's executives are extremely serious and competent. They are the ones who need to run the company," Tanure said. Executives and the board are in full harmony and seeking an agreement with creditors, which include Anatel, public and private banks as well as bondholders and smaller credit holders, such as suppliers.
"We are intensely and tirelessly seeking possible alternatives to make the understanding between shareholders and creditors viable as soon as possible," Oi Chief Executive Officer Marco Schroeder said in the statement.
Before it's here, it's on the Bloomberg Terminal.
LEARN MORE