politics
Le Pen's Worldwide Hunt for French Campaign Funds Draws a Blank
By and
Nationalist candidate has sought financing in seven countries

Father's political fund is only source of finance so far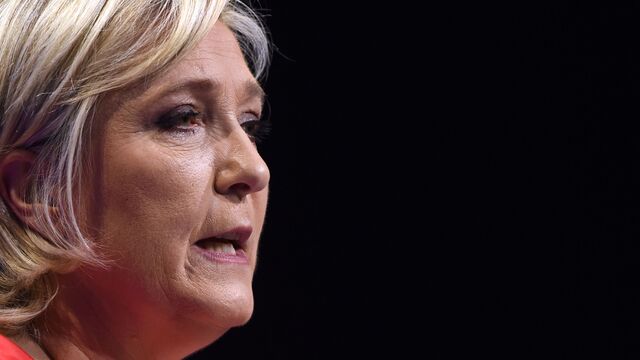 Nationalist Marine Le Pen says she still hasn't found the money she needs to fund her run for president after approaching lenders in seven different countries.
Le Pen's team has sent about a dozen requests to banks in Russia, the U.S., Italy, India, Indonesia and the U.K. on top of her applications to French financial institutions, according to her strategic adviser Louis Aliot. Le Pen needs about 14 million euros ($15 million) to to fully execute her plans the presidential campaign that runs through May 7 and then to compete in legislative elections in June, Aliot said in an interview with Bloomberg.
The career politician is neck-and-neck with the independent Emmanuel Macron to lead the first round of voting on April 23, though no polls have shown her even close to winning the final ballot. Republican nominee Francois Fillon is running as distant third.
Le Pen's party, the National Front, is still tainted by its racist history, complicating her efforts to raise funds. Aliot said French banks have refused her funding, although Paris-based Societe Generale SA did grant her loans for her 2012 campaign.
Aliot spoke shortly before the investigative website Mediapart reported Thursday that Le Pen may have received a 3 million-euro loan from Moscow-based Strategy Bank, citing National Front documents from June 2016. The bank had its license revoked last year and is unreachable.
Party treasurer Wallerand de Saint Just denied the report. "It's not just dishonest, it's stupid," he said in an emailed statement. "The documents cited by Mediapart do not demonstrate in any way there was a loan."
Trump Tower
As Le Pen's search for funds crossed three continents, she visited New York in January and met with potential lenders, Aliot said. The National Front leader and Aliot, who is also her partner, were spotted at Trump Tower during the trip, which wasn't publicized.
"We have filed loan requests, but we're still waiting," Aliot said in Paris. "It's slow."
In the past, the 48-year-old candidate has found financial support in Russia. In 2014 First Czech Russian Bank OOO lent her party 9 million euros. In the same year, party founder Jean-Marie Le Pen's political fund Cotelec received a 2 million-euro loan from a Russian-backed fund based in Cyprus, Mediapart reported at the time. Jean-Marie is Le Pen's father.
Still, the Central Bank of Russia revoked FCRB's license in July and Le Pen says her Russian contacts haven't helped her get funding for this year's campaign. She met with Putin in Moscow last week and said during the visit that they didn't discuss campaign finance.
Le Pen's ties with Russia have been under scrutiny for several months as she supports Putin's military operations in Syria and his annexation of Crimea. She promised Putin she'll oppose European Union sanctions against Russia if she becomes president in May.
A 6 million-euro loan from Cotelec is the funding for Le Pen's 2017 campaign, according to Le Pen's public filings. It also helped fund the party's 2015 regional campaign.
Before it's here, it's on the Bloomberg Terminal.
LEARN MORE