markets
Goldman to Old Mutual Bleak on South Africa Outlook Post Gordhan
By
Goldman sees rating downgrade amid 'dark mood' across country

Economy at risk of prolonged period of stagnation: Old Mutual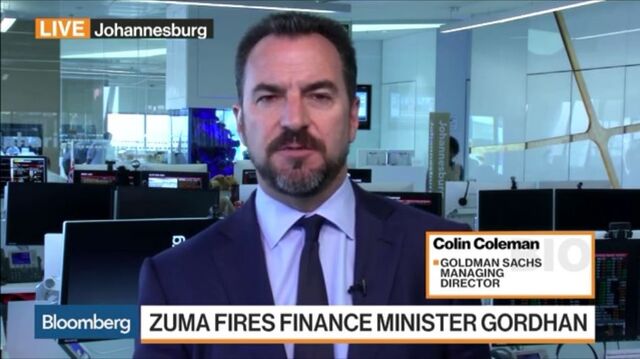 Financiers, economists, labor leaders, lawmakers and officials from the ruling African National Congress are all having their say on how the decision by South African President Jacob Zuma to fire Finance Minister Pravin Gordhan and other cabinet members will affect the economy, the country's credit ratings, bonds and the local currency.
Colin Coleman, head of sub-Saharan Africa at Goldman Sachs Group Inc, tells Bloomberg TV:
The cabinet reshuffle "removes the belt and braces over fiscal discipline that has been one of the hallmarks of the last 22 years of democracy in South Africa -- creating a huge amount of anxiety and very dark mood in the country." A rating downgrade is likely in the next six months because the agencies "have institutional stability as one of the key pillars alongside growth."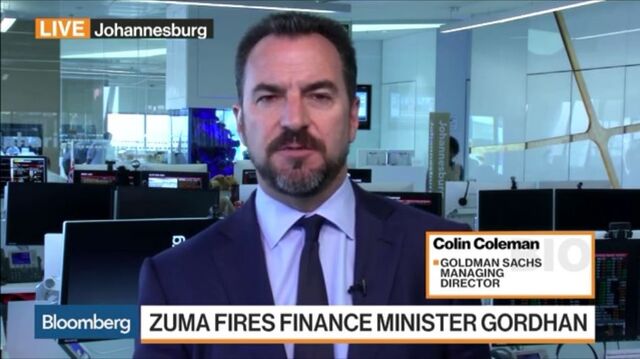 Rian Le Roux, chief economist for Old Mutual Investment Group, says in emailed comments:
"The sharply weaker rand all but rules out any hope of lower interest rates in the foreseeable future, a prospect that was brightening notably over the past few months," he says. "The economy also now runs an increased risk of getting stuck in a prolonged period of stagnation as South Africa could increasingly fall off global investor radar screens, given political and policy concerns amid a poorly performing economy. In short, South Africa has dealt itself a serious economic blow, something that may be hard to recover from."
Sim Tshabalala and Ben Kruger, co-chief executive officers of Standard Bank Group Ltd., say in emailed comments:
"It is already clear that the changes at the National Treasury -- the ministry responsible for our industry -- are very significant," they say. "It is probable that this financial shock will trigger economic weakness with consequences for job and income generation. These negative effects could be enduring unless urgent steps are taken to restore public confidence in our fiscal governance and to rebuild South Africa's credibility in the financial markets."
Leon Campher, chief executive officer of Association for Savings & Investment South Africa, which represents asset managers, insurance companies with more than 8.6 trillion rand ($641 billion) under management, says in phone interview:
"There's approximately 2 trillion rand in foreign investment in the Johannesburg Stock Exchange. If that exits, you must know what that will do to share prices. There's about a trillion rand of South Africa listed bonds, government and other, that are in the hands of foreign investors. If that exits you can imagine what that will do to the currency, the pricing of bonds and the cost of South Africa's foreign debt."

Johannes Moller, President of Agri SA, which represents the agriculture industry, says in emailed statement:
"We perceive this step by Mr. Zuma as one of disregard to the economy, ignorance with respect to investor confidence and carelessness about the future actions of rating agencies. Surely such ill-considered steps can lead to the country being further starved of desperately needed foreign direct investment. Clearly a rethink of policy formulation and political conduct are now of paramount importance if our country is not truly to become a failed state."
Gwede Mantashe, secretary-general of the ruling African National Congress, tells Radio 702:
"As the secretary general, I felt like this list has been developed somewhere else and it's given to us to legitimize it. And my own view is that I'm very uncomfortable because areas where ministers do not perform have not been touched. Ministers have been moved and the majority of them were good-performing ministers. I'm very much uncomfortable with it"
Zwelinzima Vavi, the former general-secretary of the Congress of South African Trade Unions who now heads a new labor group, says by phone:
"We are in Pretoria to try and protect the country from the Guptas taking over Treasury," he said, referring to family friends of the president, who are also in business with one of his sons, and who have been accused of using their closeness to Zuma to influence cabinet appointments and government contracts. "Unions from my new federation will support this protest and all the following protests that we need to engage in to protect the country. This country will be bled to death in the coming months. We need to stand up and resist."
Nqabayomzi Kwankwa, member of parliament and chief whip of the United Democratic Movement, tells broadcaster eNCA:
Zuma's move is a "sign of reckless leadership at its worst" and "the last kicks of a dying horse." Zuma is "only interested in looting state resources."
— With assistance by Colin McClelland, Loni Prinsloo, Ana Monteiro, and Neo Khanyile
Before it's here, it's on the Bloomberg Terminal.
LEARN MORE