Five Things You Need to Know to Start Your Day
Get caught up on what's moving markets.
By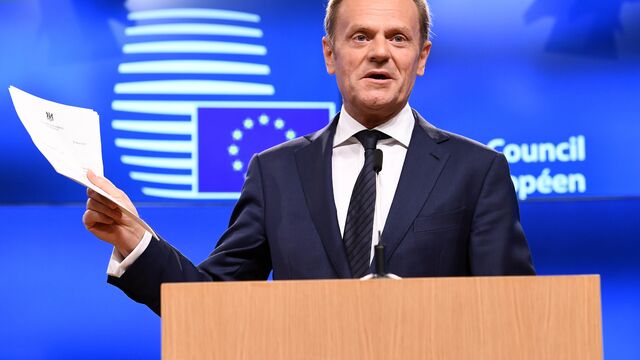 Want to receive this post in your inbox every morning? Sign up here.
The EU sets out its Brexit negotiating position, Michael Flynn seeks immunity, and President Zuma fires his finance minister. Here are some of the things people in markets are talking about today.
EU position
The European Union set out its position on Brexit negotiations this morning. EU President Donald Tusk said discussions over future commercial ties would not take place until "sufficient progress" has been made on the terms of Britain's withdrawal from the union. There was mixed economic data for the U.K. this morning as the latest revision of 2016 fourth-quarter GDP showed the weaker pound helped boost trade, while consumers felt the pressure from rising inflation. 
Flynn immunity
Former U.S National Security Adviser Mike Flynn is said to have asked for immunity from prosecution before he is interviewed as part of inquiries into alleged contacts between the Trump administration and Russian officials. Meanwhile, the argument over surveillance of President Donald Trump's team and associates rumbles on, with the White House inviting leaders of congressional intelligence panels to review documents related to the matter. Turning to policy, the president will today order a comprehensive study to identify every form of "trade abuse" that contributes to U.S. deficits. 
Zuma swings ax
South African President Jacob Zuma fired nine members of his cabinet, including Finance Minister Pravin Gordhan. The rand tumbled on the news and is now down more than 7.5 percent this week, as the move is seen to risk a weaker South African economy and a split in the ruling African National Congress party. There was also a power grab in Venezuela, where the Supreme Court gutted the opposition-run Congress of its duties, pushing the country towards dictatorship. 
Markets slip
Overnight, the MSCI Asia Pacific Index lost 0.9 percent, and Japan's Topix Index fell 1 percent in the final trading session of the quarter. In Europe, the Stoxx 600 Index, which was 0.3 percent lower at 5:42 a.m. Eastern Time, is on track for its best March since 2010 and its longest run of quarterly gains since 2014. U.S. stock futures were also losing ground. 
Economic data
Inflation in the euro area slipped to 1.5 percent in March, lower than economists expected, according to Eurostat's flash estimate. In Germany, unemployment fell to new record lows, as the number out of work dropped by 30,000. Coming up in the U.S. today at 8:30 a.m. is personal income and spending data, with Chicago PMI due at 9:45 a.m. A week of speeches by the Federal Reserve officials rounds up with appearances from Fed Bank of New York President William Dudley, St. Louis Fed President James Bullard and Minneapolis Fed President Neel Kashkari all due later.
What we've been reading 
This is what's caught our eye over the last 24 hours.
An Asia edition of Five Things is launching soon. Sign up here to be among the first to start getting it delivered to your inbox.
Before it's here, it's on the Bloomberg Terminal.
LEARN MORE