markets
ECB's Week of Mixed Signals Shows Stimulus Path Still Uncertain
By
Board members Coeure and Praet differ in views on guidance

Weak inflation data suggest issue won't be resolved just yet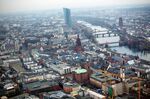 The European Central Bank's top officials are still feeling their way toward the exit.
At the end of a week in which Executive Board member Peter Praet, the institution's chief economist, railed against the idea that interest rates might be raised before the end of bond purchases, his colleague Benoit Coeure, in charge of market operations, said the discussion is "not a taboo."
As two of the most influential members of the six-person board that recommends ECB policy, the mixed message could be a complication for investors trying to judge when negative rates and the 60 billion euros ($64 billion) a month of debt purchases will end. But for the central bank, especially given fresh inflation data on Friday showing the weakest core price growth in almost a year, a little ambiguity may be helpful.
"I understand why the market might be confused by this," said Claus Vistesen, an economist at Pantheon Macroeconomics in Newcastle, U.K. "But it makes sense for the ECB from a top-down perspective to allow itself the flexibility in terms of communication."
The ECB's current guidance is that interest rates will stay at present levels "or lower" for an extended period, and "well past" the end of quantitative easing. Further insight into the status of those commitments could be on offer next week at a major ECB-themed conference in Frankfurt, where ECB President Mario Draghi and Praet will both speak.
Rate Discussion
So far though, Executive Board member Yves Mersch has suggested the pledge that rates could drop may no longer be appropriate after 15 straight quarters of economic growth and the apparent victory over the threat of deflation. Draghi has said Governing Council members had a "cursory" discussion about that on March 9.
More controversially, Austrian central-bank Governor Ewald Nowotny has suggested that rates -- especially the minus 0.4 percent deposit rate -- might rise even before QE comes to a halt. That's the kind of talk Praet sees as potentially dangerous, as he stressed in Madrid on Monday.
"You have to be very careful on the guidance that you have because all the signals that you may give on the short-term rates will influence the whole risk-free curve."
Coeure, speaking in Brussels on Friday, candidly said that policy makers can't always be sure how their forward guidance works, and that adjusting it too gradually might prove costly.
"We would pay a high price in terms of our credibility if we failed to adapt our forward guidance once we had changed our views on the outlook."
The difference of opinion is even more nuanced than it might look. Forward guidance is generally considered to have two parts, explained through the medium of Greek legend. The Delphic portion -- after the Oracle at Delphi -- is to predict how events will unfold. The Odyssean element is to have a specific plan to address the hazards foreseen, as Odysseus tied himself to the mast of his vessel to resist the Sirens.
Both Praet and Coeure know where they want to be -- in a euro-zone economy where inflation is at the goal of just under 2 percent and able to stay there for the medium term without monetary support.
Praet's comments suggests he sees the route there, and any unnecessary divergence risks unsettling markets. Coeure's remarks indicate that when certain hazards pass into history -- such as the potential need to cut rates -- it's important to acknowledge that and change the communication.
Inflation Slowdown
At some point, the ECB will have to resolve the issue with a formal Governing Council discussion. The next policy meeting is on April 27, but there is little sign that will be the right time to announce a change in language. Inflation slowed to 1.5 percent in March, from 2 percent. The core rate, which excludes energy and food and is seen by the ECB as a signal of where headline inflation will stabilize, weakened to 0.7 percent from 0.9 percent.
"The ECB is in an increasingly difficult place," said Fabio Balboni, an economist at HSBC Holdings Plc in London. "The debate on the appropriateness of negative rates is likely to regain traction, but with inflation still not picking up the ECB will be wary of signaling the move to a less accommodating monetary policy."
— With assistance by Alessandro Speciale
Before it's here, it's on the Bloomberg Terminal.
LEARN MORE