Brexit Bulletin: More Paperwork
The tense wait begins for the EU to set out its negotiating position.
By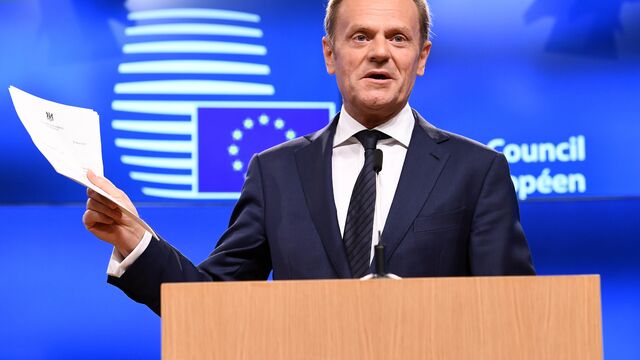 Sign up to receive the Brexit Bulletin in your inbox, and follow @Brexit on Twitter.
Now it's the European Union's turn to send paperwork.
Sometime around 9 a.m. Brussels time, EU President Donald Tusk will distribute draft negotiating guidelines around the bloc's 27 states. Ambassadors will then meet to discuss the text and Tusk will speak to reporters in Malta.

The marching orders for negotiator Michel Barnier are not meant to be made public until EU leaders ratify them on April 29, although they will likely leak. Bloomberg has already reported they will probably limit Barnier's remit to discussing the divorce rather than the terms of any new trade relationship.
That means focusing on the bill, borders and citizens' rights. Guy Verhofstadt, the European Parliament's point person on Brexit, told Channel 4 News he wants residents' rights resolved this year, while Germany will insist the U.K. promise not to slash taxes and regulation as part of any trade deal.
Meanwhile, Bloomberg's Nikos Chrysoloras has a handy list of the key dates for the coming talks.
May on Court
The U.K. might be rethinking its attitude towards the European Court of Justice, whose jurisdiction Theresa May vowed to end in January.
This week the British prime minister appeared to soften her stance. She was also told by the European Parliament she would need to accept the Luxembourg-based judges' rulings if she wanted any post-Brexit transition.

"Theresa May seems to have intimated that during any transitional period she'd be willing to accept the EU court's jurisdiction," said Phillip Souta, head of policy at law firm Clifford Chance."Basically, the price of a transition might be the U.K. accepting the court."
Maintaining a softer line might facilitate the trade pact May wants, according to Bloomberg's Ian Wishart and Stephanie Bodoni. Brexit Secretary David Davis nevertheless said on Thursday that the court would play "no future role" in the U.K. after Brexit.
Another Vote?
The British government told lawmakers they might get to vote on whether the U.K. should stay in the EU's single market after Brexit, fueling calls for a Norway-style trade deal.
Also in Westminster on Thursday, May named Davis, Foreign Secretary Boris Johnson, Home Secretary Amber Rudd and Chancellor of the Exchequer Philip Hammond to a panel overseeing Brexit talks.
She also issued opinion pieces to newspapers across seven European countries, focusing on their individual concerns in an attempt to bypass the region's political machine and appeal directly to voters. She noted the security worries of the Swedes and told Spaniards she cared about tourism.
As for the opposition Labour Party, Eddie Buckle illustrates why a May 4 special election in north-west England poses a test for its Brexit strategy.
Banks and Brexit
Banks aren't hanging around.
As it considers expanding in the Irish capital, JPMorgan is in talks to buy a 130,000 square foot Dublin office building, according to people with knowledge of the matter.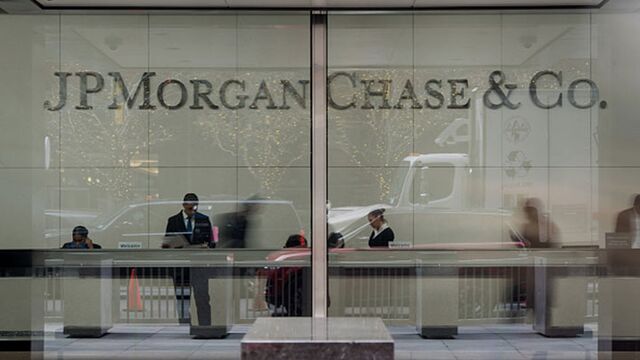 Lloyd's of London, the insurance market, said it would open an EU hub in Brussels by the beginning of 2019 and Citigroup said it may move some of its thousands of workers in London to a new trading unit on the continent.
"For planning purposes, we must assume a 'hard' Brexit," Jim Cowles, Citi's regional head, wrote in a memo to staff.  
Goldman Sachs, lobbyists TheCityUK and Barclays were among the companies who met with Davis's department at the end of last year, new documents showed.
What may determine how many bankers move is whether May secures a transition. To learn more about that topic, read our QuickTake Q&A by Silla Brush.
On the Markets
It's 2012 again for companies in the U.K. The first quarter of this year was the busiest for mergers by volume and the slowest for initial public offerings since the same period five years ago, when Greece's debt crisis weighed on investors and boards, write Ruth David and David Hellier.
 "Over the next two years there will be a period of heightened uncertainty and that will make companies think harder about M&A to generate growth," said Ed Byers, co-head of U.K. investment banking at JPMorgan. 

Brexit Bullets
British business confidence fell and consumers were hesitant about their financial situation this month, according to reports from Lloyds Bank and GfK. Nationwide said house prices fell for the first time in almost two years. The Bloomberg Brexit Barometer rose to 32.9 on Thursday
Scottish First Minister Nicola Sturgeon is preparing to formally ask for a second referendum on independence
Gina Miller may file another legal challenge over May's bid to take control over EU laws
The U.K. computer system may not be able to deal with a surge in post-Brexit customs declarations, the Financial Times reports
Bloomberg View's Mark Gilbert identifies a key lesson for the EU to learn from Brexit
Luxembourg invokes a 1965 agreement between the founding members of what is now the EU in an attempt to win the top banking regulator from London
Britain is playing Russian roulette with its industrial heroes, says Chris Bryant of Bloomberg Gadfly
Premier League soccer clubs worry Brexit will sap their teams of imported players. "The bottom line is the Premier League is the greatest league the world has ever known," said David Gold, West Ham's co-owner. "Why would you stifle that?"

And Finally...
European Commission President Jean-Claude Juncker said he would champion American states leaving the U.S. after President Donald Trump backed Brexit.
 "The newly elected U.S. president was happy that Brexit was taking place and was asking other countries to do the same," Juncker said on Thursday. "If he goes on like that, I'm going to promote the independence of Ohio and the exit of Texas."
White House spokesman Sean Spicer on Wednesday called Trump a "leader in the effort to call Brexit."
For more on Brexit follow Bloomberg on Twitter, Facebook and Instagram, and see our full coverage at Bloomberg.com
Before it's here, it's on the Bloomberg Terminal.
LEARN MORE