World's Largest Bank Has Surprise Profit Gain as Costs Drop
Bloomberg News
ICBC joins big Chinese lenders in posting higher 2016 earnings

Bank of China scheduled to report earnings on Friday
Industrial & Commercial Bank of China Ltd., the world's largest lender by assets, reported an unexpected increase in full-year profit as it reined in costs.
Net income rose to 278.2 billion yuan ($40.4 billion) in 2016 from 277.1 billion yuan a year earlier, the Beijing-based lender reported to the Hong Kong exchange on Thursday. That compared with the average estimate of 275.3 billion yuan in a Bloomberg analyst survey.
ICBC joined domestic rivals Agricultural Bank of China Ltd. and China Construction Bank Corp. in posting better-than-expected profit this week. Bank earnings growth -- under pressure owing to the country's economic slowdown in recent years -- is poised to accelerate this year as loan margins stabilize and corporate borrowers' ability to repay debt improves, some analysts have said.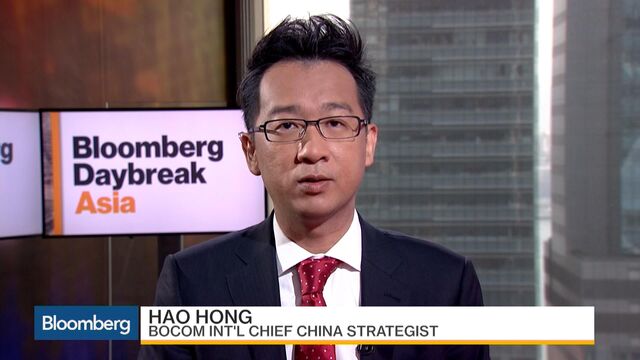 "Going into 2017, earnings growth could pick up from 2016," Hao Hong, chief China strategist at Bocom International, said in a Bloomberg TV interview this week. Still, high debt levels in China remain "a perpetual concern," especially in an environment of higher interest rates, he said.
For the fourth quarter, ICBC's net income was little changed at 55 billion yuan from a year earlier, exceeding the 53 billion yuan expected by analysts.
Bad Debt
The lender's bad-loan ratio was unchanged at 1.62 percent from the third quarter, as nonperforming loans rose to 211.8 billion yuan from 208.9 billion yuan three months earlier. ICBC's bad-loan coverage ratio, which measures provisions against soured credit, stood at 136.7 percent by December, marking the fourth straight quarter that the ratio has been below the regulatory minimum of 150 percent.
Key year-on-year numbers for ICBC included:
Operating expenses: 193.1 billion yuan vs 220.8 billion yuan
Net interest income: 471.8 billion yuan vs 507.9 billion yuan
Net fee and commission income: 145 billion yuan vs 143.4 billion yuan
Net interest margin: 2.16% vs 2.47%
Capital adequacy ratio: 14.61% vs 15.22%
Dividend payout ratio: 30.5% vs 30.3%
Earnings reports the past two days from Construction Bank and Agbank, the nation's second- and third-largest lenders by assets, both beat analysts' estimates, helped by a drop in expenses and amid an improvement in their bad-loan ratios. Bank of China Ltd.'s results are scheduled for Friday.
China's economic slowdown in recent years has meant banks have had to contend with rising loan defaults and narrower margins. More recently, tighter regulations on mortgage lending, off-balance sheet wealth management products and some cross-border financial services have dragged on profit growth.
China's policy makers have stepped up a campaign since August to tame a debt pile racked up in the wake of the global financial crisis, as the country tried to leverage its way to a stable growth rate. Debt levels have ballooned to about 264 percent of gross domestic product, according to estimates from Bloomberg Intelligence.