technology
Viacom Ditches Boys for Housewives With New Paramount TV Network
By
Network plans "Heathers" adaptation and "Waco" series

Paramount to aim older as teenage boys change viewing habits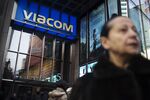 When Viacom Inc. rechristens Spike as the Paramount Network next year, the cable channel that airs the "Guys Choice Awards" will dump teenage boys for their parents.
The network on Thursday announced plans for its first shows under the new name, a trio of scripted programs that will air in early 2018. In the line-up are "Heathers," an adaptation of the 1980s cult classic; "Waco," a six-part series based on the 1993 standoff between federal agents and cult leader David Koresh; and "American Woman," a half-hour show based on the life of Kyle Richards, a star of "Real Housewives of Beverly Hills." Paramount will also air a documentary on Martin Luther King Jr.
Viacom is using the name of its 105-year-old film studio to transform a TV network identified with juvenile masculinity into a home for upscale dramas a la FX and AMC. Those networks command higher advertising rates, and the prestige of their shows discourages pay-TV operators from omitting them from smaller packages of channels.
Paramount is one of six flagship channels identified by new Viacom Chief Executive Officer Bob Bakish, which means it will garner a larger share of resources relative to networks like TV Land and CMT. "American Woman" and "Heathers" were initially developed at TV Land, according to Kevin Kay, who has run Spike since 2007 and also assumes control of TV Land and CMT.
Spike's transition into Paramount will complete a strategic shift that has been under way for a few years, Kay said. After huddling with his colleagues in advertising sales, Kay decided the network stood a better chance going after a balance of men and women -- as well as aiming a bit older.
"Young men were starting to leave TV," Kay said in an interview. "Young males are looking for other ways to experience content. They are on their phone. They are using a DVR. The truth is, no matter what we did, we weren't going to grow."
So Kay looked for shows that could speak to a broader audience like "Lip Sync Battle," the popular reality TV show in which celebrities dress up and pretend to sing along to hit music. The show, hosted by rapper-turned-actor LL Cool J and model Chrissy Teigen, is one of three reality programs that will endure under the Paramount name, along with "Bar Rescue" and "Ink Master."
Kay has also pursued shows that convey the network's growing interest in serious fare, such as a documentary series about Kalief Browder, a young black man who committed suicide after harsh treatment in the Rikers Island prison. Produced by Harvey Weinstein and Jay-Z, the show has been doing well enough that Kay is about to order another six-part series.
Now, Kay is moving into scripted programming, a field that grows more competitive by the day. The TV business released 454 scripted shows in 2016, according to a report by FX, more than double what was produced less than a decade ago. Broadcast and cable networks are responsible for some of the growth, but most of the new shows hail from streaming services offered by Netflix Inc., Amazon.com Inc. and Hulu LLC. Netflix alone will release 1,000 hours of original programming this year, not all of it scripted.
Spike was established in 1983 as The Nashville Network, a destination for fans of country music, before being acquired by Viacom in the late 1990s and rebranded as a network for men in 2003. After Spike releases its first scripted show this year, an adaptation of a Stephen King novella, Paramount will release six scripted shows next year. The network will eventually ramp up to eight a year.
"We have to carve out our own space," Kay said. "Viacom is very committed to this. We can't put a Paramount network on TV and not have it be successful."
Before it's here, it's on the Bloomberg Terminal.
LEARN MORE