U.K. Hints Lawmakers May Get Vote on Staying in EU Single Market
By and
David Davis says vote 'likely' but government later backtracks

Pro-EU lawmakers want say on whether to keep Britain in EEA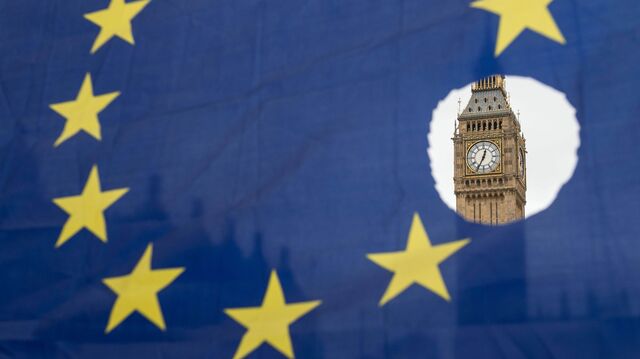 Follow @Brexit for all the latest news, and sign up to our daily Brexit Bulletin newsletter.
Lawmakers may get a vote on whether Britain should stay in the European Union's single market after Brexit, Prime Minister Theresa May's government signaled, fueling calls for Britain to replicate Norway's trade deal with the European Union. 
Brexit Secretary David Davis said it is "quite likely" that Parliament will be asked to vote on whether Britain should leave the European Economic Area, which gives non-EU countries Norway, Liechtenstein and Iceland rights to trade in the single market.
May is planning to take Britain out of the single market but some pro-Europeans see EEA membership as a route to a softer Brexit in which the country would retain free trade with the bloc.
The issue arose when Davis was asked in Parliament if it would be legally necessary for lawmakers to vote on taking Britain out of the EEA, which is a separate body from the EU. "Depending on what the policy was, I think it would be quite likely to come to Parliament," he replied.
Later, Davis's Brexit Department issued a statement playing down the significance of his comments, without categorically ruling out a vote.
"Once we leave the EU, the EEA Agreement will no longer be relevant for the U.K. It will have no practical effect," the department said. "We therefore do not envisage a vote. We are considering what steps, if any, might need to be taken to formally terminate the EEA Agreement as a matter of international law." 
Heidi Alexander, an opposition Labour lawmaker, said Parliament must have a say on whether Britain quits the EEA.
"The Government's stampede towards a hard Brexit which yanks us out of the single market will make working people worse off," she said. "This is not a decision that should be made by the stroke of David Davis's pen." It should be put before "people's elected representatives in Parliament," she said.
Before it's here, it's on the Bloomberg Terminal.
LEARN MORE