Spain's Rajoy Begins First Test of New Term With 2017 Budget
By and
Government still negotiating parliamentary support for plans

Rajoy aims to demonstrate stability as risks cloud EU outlook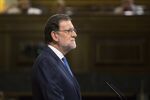 Spanish Prime Minister Mariano Rajoy began the process of seeking parliamentary support for the 2017 budget in a test of how much power he can wield at the head of a minority government.
With three months of the year already gone, the Spanish cabinet passed his 2017 tax and spending plans at a meeting in Madrid Friday. Spain is on track to grow at least 2.5 percent in 2017 and the economy will create about 500,000 jobs to bring the unemployment rate down to 16.6 percent, the lowest level since 2008, the Economy Ministry said in an emailed statement.
The prime minister is trying to show that it's business-as-usual in Spain after he lost his majority in 2015 and the country spent most of last year without a government. With the rest of Europe overshadowed by elections in France and Germany, the start of Brexit negotiations and the risk of protectionist measures from the new U.S. administration, approving a budget would be a sign of political stability.
Rajoy has 137 deputies in the 350-seat lower chamber and has support from another 32 representatives of the centrist party Ciudadanos. A handful of regional groups take him to 175. The sole representative of the New Canaries party is still to decide whether he'll give the prime minister a majority. The budget bill will go to parliament on April 4.
Economic growth at 2.5 percent will boost tax collection to 200 billion euros ($214 billion) ,its highest level in 10 years, Budget Minister Cristobal Montoro said. Higher revenue gives Rajoy greater scope to transfer funds to the regions, a factor that may give him more sway in talks to win support for his policies in parliament.
Spain reported a budget deficit last year of 4.5 percent of output, meeting its target of 4.6 percent. Spain is on track to post a current account surplus for fifth year in a row, which will be equivalent to 1.9 percent of the country's output compared with 2 percent last year.
'Last Resort'
"In a context of global uncertainty and a heavily political calendar in Europe, keeping Spain out of the radar is an advantage -- Rajoy doesn't want to risk that," said Angel Talavera, an economist at Oxford Economics in London. "If he really isn't able to govern, he can always call a snap election. But that would be a last resort."
The budget vote will also offer a clue as to how Rajoy will approach the next four years when he'll need to cut cross-party deals to pass legislation as economic tailwinds such as low energy prices and ultra-loose monetary policy begin to fade.
One other vote that will shape the political environment in Spain is the leadership contest of the opposition Socialist party in May. Rajoy's People's Party only managed to take power in October after the Socialist leader Pedro Sanchez was ousted by a party coup.
Now Sanchez is campaigning to get his job back, rallying the rank-and-file supporters against the party elders who pushed him out to let Rajoy govern. If Sanchez returns, he's likely to bring with him the gridlock that characterized much of 2016.
"Even if Rajoy passes the budget, the question of just how stable Spain is could come back if Sanchez wins," said Lluis Orriols, a political scientist at Madrid's Carlos III University. "Having him as head of the Socialist party means losing a possible partner." 
— With assistance by Thomas Gualtieri
Before it's here, it's on the Bloomberg Terminal.
LEARN MORE