business
Private Equity Sees No End to the Drug and Mental-Health Gold Rush
By
Mental health investments quintupled since Obamacare passage

Goldman Sachs among investors chasing drug-treatment deals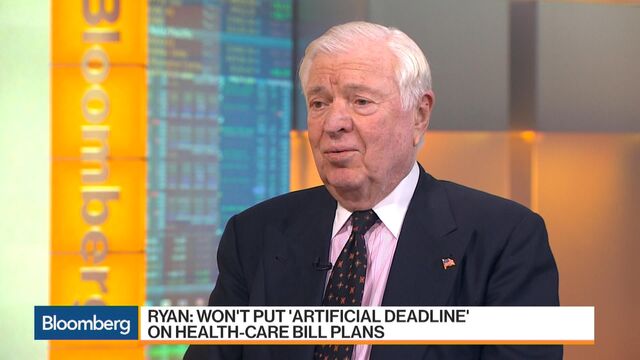 Funding for the treatment of the U.S. opioid addiction epidemic would have been a top casualty of Republican's failed Obamacare replacement plan: Mental health advocates warned of it. So did Democrats, and some of the Republicans who eventually helped kill their party's repeal-and-replace bill.
Private equity didn't believe a word of it.
After years of investment in substance abuse treatment under the Affordable Care Act, equity firms -- along with consultants on behavioral health mergers and two large provider-acquirers, Acadia Healthcare Co. of Franklin, Tennessee, and Universal Health Services Inc. of King of Prussia, Pennsylvania -- watched Republican efforts to dismantle Obamacare with little worry that it would curtail what had become a mental health gold rush in the years since the health law passed.
The high profile of the opioid crisis along with changing public sentiment made behavioral health one of the surest niches in health care, said James Andersen, founder and managing partner of Clearview Capital in Greenwich, Connecticut. The firm began building a portfolio of substance abuse businesses in Pennsylvania, New Jersey and North Carolina the year after Obamacare became law.
Bipartisan Issue
The month after Donald Trump's election, Congress easily passed a measure to beef up support for opioid treatment in states, a sign of bipartisan consensus on the need to fight drug abuse, he said.
If Congress killed Obamacare outright, "I don't think they would have dropped insurance coverage for this," Andersen said. "It's an epidemic, and we're not just going to ignore that. Uncertainty always gives us pause, but the reality is that there has been a tectonic shift in how we view mental health and addiction."
House Republicans are considering another vote on repealing Obamacare as early as next week to address last week's failure. "They just put together a bill that people really didn't like" Universal founder and chief executive Alan Miller said on Bloomberg TV today, of Republican efforts to date.
"Republicans themselves rebelled against" the reduction in insurance coverage, he said. "I think we have come in the United States where everyone believes that everyone has the right to be covered."
Braff Group, a health-care merger company in Pittsburgh, also has seen little indication of jitters: "Even after the Trump presidency became apparent and people were talking about repeal and replace, the expectations were that the mental health services were probably going to be left alone," said President Dexter Braff.
In analyst conferences early this year, chief executives of both Acadia and Universal also predicted Republicans would be unable to pull the plug: "The need for the state to treat these populations is so great that they will absolutely find a way to make that happen," said Acadia's Joey Jacobs.
Buying Binge
Americans' addiction to drugs spelled opportunity for private equity from the moment the Affordable Care Act was signed seven years ago. The swelling numbers of people with insurance and the law's insistence that mental health and drug abuse be covered by it spurred a surge in acquisitions. Private equity firms -- including Goldman Sachs's merchant banking division and Clearview -- sank billions of dollars into acquiring rehab businesses.
Private equity's goal is to acquire and flip providers to large players like Acadia and Universal. Acadia provides psychiatric and chemical dependency services in inpatient psychiatric hospitals, residential centers and outpatient clinics, growing to about 600 facilities today from six in 2011, including 105 centers for medication-assisted treatment for opiate abuse.
The rapid expansion, which included two acquisitions totaling more than $3 billion, was fueled by "attractive industry tailwinds," according to a 2016 Acadia investor presentation. Those included Obamacare and the opioid crisis: In a February conference with analysts, CEO Jacobs referred to its "large book of business in treating the opioid addiction," saying it represented about 40 percent of U.S. revenue.
Universal owns both acute-care hospitals and about 300 behavioral health facilities. Its latest large acquisitions have been in the U.K.
Slower Pace
Behavioral deals almost quintupled between 2010, when the health law passed, and last year, said Lisa Phillips, an editor with Irving Levin Associates in Norwalk, Connecticut, which tracks publicly announced health-care mergers and acquisitions. This year's pace is slower, although Clearview's Andersen said a lack of quality targets is the likely reason.
Private equity firms are lured by the market's fragmentation, eased reimbursement risk and demand that outstrips supply. For years, the drug rehab business was the province of roughly 14,500 players, many mom-and-pop operations with one or two facilities to their names, according to a 2015 analysis by investment banking firm Capstone Partners. By the mid-2000s, opioid abuse was expanding the need for treatment. Then two laws made it easier to get it.
Mandatory Coverage
The first, in 2008, put mental disorders on par with other medical treatment for large group insurance. Two years later, the Affordable Care Act made mental health and substance abuse treatment mandatory in the individual market and expanded Medicaid coverage to all of the poor. The program had covered largely low-income people who were mothers of small children, disabled or in nursing homes.
Venture capital noticed. Goldman Sachs's private equity arm funded Advanced Recovery Systems, a platform for acquiring rehab centers, in 2013. A California behavioral health company backed by New Enterprise Associates and Frazier Healthcare Ventures made several purchases to expand its footprint in 2014, including a New Jersey rehab network. Clearview acquired drug treatment portfolio company Pyramid Healthcare in 2011, and now owns the largest outpatient substance abuse and psychiatric provider in New Jersey and a sober house and outpatient provider in North Carolina, along with more than 40 Pennsylvania facilities in Pennsylvania.
According to Levin's Phillips, the number of announced behavioral health deals climbed to 41 last year from eight in 2010. Roughly half involved private equity, including 23 last year, or 56 percent.
Braff, which also tracks deals that aren't publicly announced, lists 49 in 2010 and 125 last year. The number involving substance abuse rose to 60 from 11.
Purchasing Power
The health law shifted behavioral health funding from state budgets to insurance, creating a "huge influx of purchasing power put into the hands of people that need mental health and especially addiction services," said health-care economist Richard Frank of Harvard Medical School.
He and Sherry Glied of New York University estimate that almost 1.3 million got substance abuse treatment under Obamacare's Medicaid expansion alone. In states hardest hit by opioids, Medicaid funded between 35 percent and 50 percent of the gold-standard, medication-assisted treatment for it, according to the National Council for Behavioral Health.
The increased demand came with "no obvious increase in supply," as small operators struggled to meet standards that came with the new insurance, Frank said. "That's where having some of the venture money jump in was not a bad thing at all."
The investment will continue, even if the effort to repeal Obamacare resurfaces, said Jordan Lampos, a vice president with Duff & Phelps in Los Angeles. "For the most part, that sector continues to be one of the hotter sectors in the private equity community. You may see some intermediate trades, private equity to private equity, before they get to the big buyers. Acadia can't buy everything."
(
Updates with quotes from Alan Miller on Bloomberg TV.
)
Before it's here, it's on the Bloomberg Terminal.
LEARN MORE