markets
PetroChina Leaves Worst Year Behind With Spending Boost Plan
By
Full-year 2016 net income slumps 78% to 7.86 billion yuan

Spending to rise first time in five years to 191 billion yuan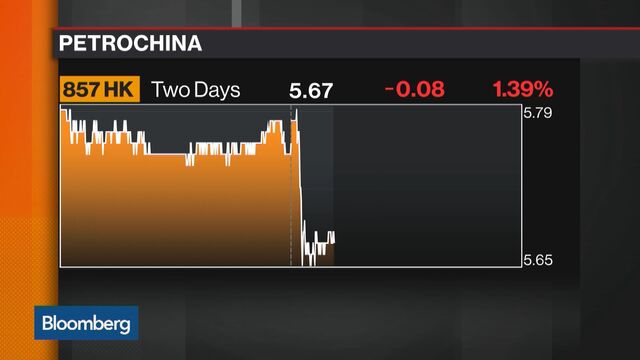 PetroChina Co. plans to raise spending for the first time in five years as the country's biggest oil and gas producer seeks to move on after posting its lowest-ever profit.
The company will raise spending 11 percent to 191 billion yuan ($28 billion) this year, the Beijing-based PetroChina said Thursday. It also reported a 78 percent drop in net income to 7.86 billion yuan, the third year of declines and its worst profit on record.

PetroChina joins its state-owned rivals that said last week they both intend to boost capital expenditure by more than 40 percent. The increase in China follows a global investment rebound, which the International Energy Agency says will be led by U.S. producers, as explorers recover from the slump that forced spending cuts, layoffs and writedowns.
"Cost-control measures by China's big three companies since oil's collapse have cut to the bone and it's almost impossible to go lower," said Laban Yu, an analyst with Jefferies Group LLC in Hong Kong. "The increased capital spending may not immediately help their exploration and output this year, but it will make higher growth possible in 2018 and beyond."
While PetroChina expects to see its crude production fall a second year in 2017, it's sustaining natural gas output. Gas sales will rise 10 percent this year and will be the main growth driver to the end of the decade, President Wang Dongjin said Thursday during a briefing in Hong Kong. Oil will trade between $50 and $58 a barrel this year, he said. Brent crude averaged $45 in 2016.
"PetroChina's profit was badly hit by the oil price crash last year," said Tian Miao, a Beijing-based analyst at North Square Blue Oak Ltd. "We're expecting better results from the company this year with the rebound in international crude prices."
PetroChina shares fell 1.6 percent to HK$5.67 as of 10:05 a.m. in Hong Kong, compared with a 0.2 percent fall in the city's benchmark Hang Seng Index.
For a Gadfly piece on China's oil majors ready to spend again, click here.
PetroChina issued a final dividend of 0.038 yuan per share, which includes a 0.02 yuan special dividend, compared with a forecast of about 0.025 yuan in data compiled by Bloomberg.
Despite reporting its worst-ever annual results, Cnooc Ltd., China's biggest offshore producer, issued a HK$0.23 dividend, compared with a forecast for HK$0.17. China Petroleum & Chemical Corp., known as Sinopec, issued a final payout of 0.17 yuan, compared with a 0.08 yuan forecast.
PetroChina's net income came in below the 8.8 billion yuan mean of 12 estimates compiled by Bloomberg. The company warned in January profit might fall by as much as 80 percent. Revenue dropped 6.3 percent to 1.62 trillion yuan. The company cut spending last year by 15 percent to 172.4 billion yuan, below its 192 billion yuan target.

PetroChina faced "serious and unprecedented" pressures last year, Chairman Wang Yilin said at the briefing Thursday. "There are more opportunities than challenges and we're bullish on PetroChina."
Investors are focusing on how long-awaited energy reforms from President Xi Jinping's government may transform the nation's energy giants, raising speculation that PetroChina and its parent, China National Petroleum Corp., may spin off its massive pipeline system.
Vice President Huang Weihe said Thursday that the pipelines are worth about 500 billion yuan ($73 billion) and that storage facilities wouldn't be included in any restructuring. That's below estimates from analysts who put a value of at least $85 billion on the pipeline units, which stretch from the country's remote borders with Central Asia to major coastal cities. 
Production details from the results include:
Total oil and gas production fell 1.8 percent to 1.47 billion barrels of oil equivalent
Domestic and overseas crude output both fell 5.3 percent to 764 million and 157 million barrels, respectively
Natural gas output in 2016 rose 4.6 percent to almost 3.275 trillion cubic feet
PetroChina sees its 2017 global crude production at 879 million barrels, down 4.5 percent, Bloomberg calculations show. Natural gas this year will be little changed at 3.276 trillion cubic feet
(
Updates with share prices in 7th paragraph.
)
Before it's here, it's on the Bloomberg Terminal.
LEARN MORE