Texas's Paxton Suffers Two Setbacks as Criminal Trial Looms
By and
State attorney general loses challenge to fraud indictment

Prosecutors persuade judge to move trial from home district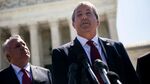 Texas Attorney General Ken Paxton was hit with a double-whammy in his criminal fraud case, as a judge took away his home court advantage and dismissed what may be the Republican's last chance to avoid a trial.
Paxton, accused of securities fraud and failing to register as a securities adviser, had raised questions about the special prosecutors and the grand jury that indicted him in July 2015. The Texas judge overseeing the case on Thursday found no fault with either.
The judge also sided with prosecutors who complained that wealthy Paxton supporters were waging a publicity campaign that tainted the jury pool in McKinney, Texas, where Paxton has lived and worked for many years. The judge said that to ensure a fair trial, the case will be moved to another district.
Paxton, a Tea Party firebrand, could face as long as 99 years in prison if convicted on charges related to soliciting investors for a technology company without telling them he was being compensated for his recruiting efforts. These activities occurred when Paxton was a member of the state legislature, before he became Texas's top law enforcement officer in 2015.
'Pattern of Injustice'
"Today's ruling is the latest in a pattern of injustice against Ken Paxton and his family," Anthony Holm, Paxton's former campaign spokesman, said in an emailed statement. "It's long past time for Ken Paxton to receive fair treatment under the law, yet Ken Paxton and his family continue being victimized by the system."
Paxton's trial was to begin with jury selection April 20, followed by evidence beginning May 1. That schedule will change and the new date will depend on the availability of courthouse facilities in whatever location is selected for the trial.
Prosecutors plan to try Paxton first on a felony charge of failing to properly register as a securities adviser. In 2014, Paxton admitted to a similar misdemeanor offense involving different investors and paid a $1,000 fine. He is also charged with securities fraud.
Brian Wice, one of the special prosecutors, and Paxton's lead defense attorney, Bill Mateja, declined to comment on Thursday's rulings, citing a gag order the judge issued Wednesday.
Read more on Paxton calling SEC case 'Witch Hunt'
On March 2, a federal judge dismissed similar civil allegations by U.S. securities regulators against him. The judge said in his order that while Paxton may have had an ethical duty to tell investors he was paid to recruit them, his failure to do so didn't break federal securities laws.
Prosecutors' Bills
Special prosecutors were appointed to investigate Paxton after the state district attorney in the politician's home district stepped aside over conflicts of interest. Paxton's supporters sued to prevent the local county commissioners from paying the prosecutors' bills, and the prosecutors' asked the judge to delay trial until their 2016 invoices are paid.
Texas State Judge George Gallagher rejected the request to halt the trial until the paycheck issue is resolved. A state appeals court has temporarily blocked the local council from paying the prosecutors until it determines whether the challenge can proceed.
Prosecutors complained in court filings that Paxton's supporters had generated local radio ads, media reports and a Facebook campaign they claimed smeared prosecutors' reputations and portrayed the attorney general as the victim of a political witch hunt.
"Paxton's posse of spokesmen, supporters and surrogates -- a clique herein collectively referred to as 'Team Paxton' -- has embarked on a crusade clearly calculated to taint the Collin County jury pool," the prosecutors said in a court filing in February.
On Thursday afternoon, Paxton's attorneys asked the judge to reconsider his order relocating the trial.
"The special prosecutors, after ample opportunity, have presented zero evidence that a trial cannot be safely and speedily had in Collin County," he wrote in a filing.
The cases are Texas v. Paxton, 416-81913-2015; 416-82148-2015; 416-82149-2015; 416th Judicial District of Collin County, Texas (McKinney).
Before it's here, it's on the Bloomberg Terminal.
LEARN MORE