Mnuchin Received $11.2 Million in Pay From CIT for 2016
By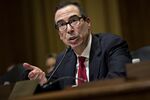 U.S. Treasury Secretary Steven Mnuchin received about $11.2 million in compensation for 2016 from CIT Group Inc., the commercial lender where he had been vice chairman.
Mnuchin, who stepped down from that post on March 31 of last year, got $10.9 million in severance, $200,000 in salary and more than $100,000 for accumulated and unused vacation, the New York-based bank said Thursday in a regulatory filing.
Chief Executive Officer Ellen Alemany, who took over last March, received $7 million. She has been working to integrate OneWest Bank, which Mnuchin led after he and a group of investors bought failed mortgage lender IndyMac Bancorp and renamed it. CIT delayed quarterly and annual filings in the past year after discovering weakness in its reverse-mortgage servicing business, which the lender took on in its $3.26 billion acquisition of OneWest.
Mnuchin, 54, a former Goldman Sachs Group Inc. executive, resigned from CIT's board in December after incoming President Donald Trump nominated him to lead the Treasury.
Before it's here, it's on the Bloomberg Terminal.
LEARN MORE