business
May Names Elite Team of Ministers to Run U.K.'s Brexit Strategy
By
Committee on exit talks includes Hammond, Johnson, Rudd, Davis

Ministers for Scotland, Wales, Northern Ireland are left out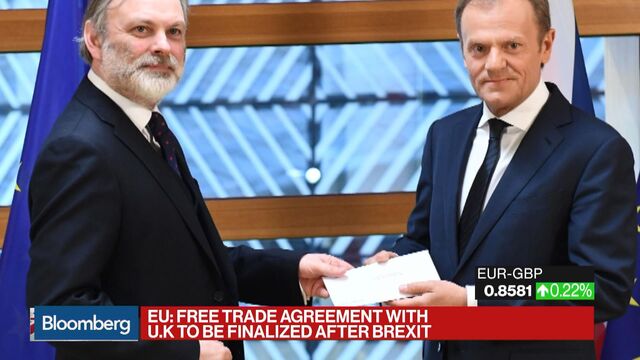 Follow @Brexit for all the latest news, and sign up to our daily Brexit Bulletin newsletter.
U.K. Prime Minister Theresa May has named an elite team of four senior ministers she'll work with to oversee Brexit negotiations, as she prepares for two years of talks on quitting the European Union.
Key Brexit supporters Foreign Secretary Boris Johnson and Brexit Secretary David Davis will sit alongside Home Secretary Amber Rudd and Chancellor of the Exchequer Philip Hammond, who both backed staying in the EU before last June's referendum. May herself will chair the committee, a statement from the Cabinet Office said on Thursday.
The group is expected to meet regularly and its remit will be to oversee the negotiations.
The announcement comes a day after May triggered the formal start of the Brexit process by invoking Article 50 of the EU's Lisbon Treaty. Her decision to create such a small team to oversee the talks reinforces her reputation for relying on a close-knit group of trusted advisers and seeking tight control over the flow of information inside the government.
Before it's here, it's on the Bloomberg Terminal.
LEARN MORE