business
Italy's Padoan Says Le Pen Win Would Be a Risk After Brexit
By
Padoan says in interview temptation to leave Europe widespread

Italy can now address banking issues within EU 'rule context'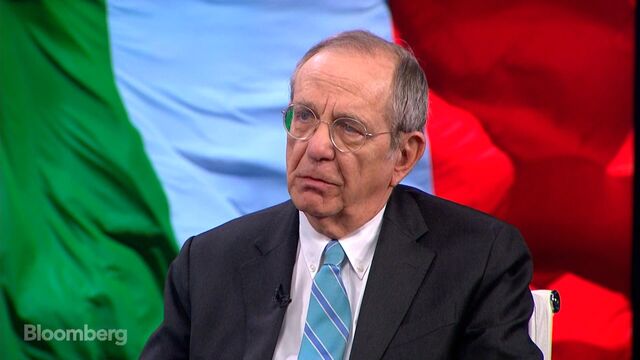 The upcoming French presidential elections will be a key moment for Europe's financial stability, which is already threatened by Brexit, and could add permanent political risk, Italy's finance chief said.
"Markets are beginning to price aggressively political risk and the victory of Marine Le Pen would be a permanent political risk to Europe, so I expect that to be reflected also in financial markets," Pier Carlo Padoan said on Wednesday in an interview with Bloomberg Television's Francine Lacqua in London. "Let's not forget that the temptation to leave Europe is widespread in a number of countries."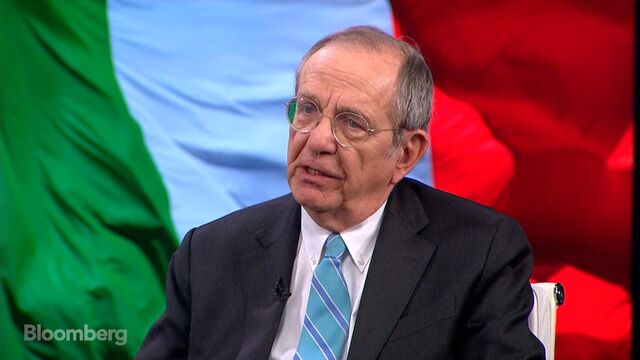 On the day U.K. Prime Minister Theresa May formally triggered two years of likely contentious talks for her country's divorce from the European Union, Padoan said even amid the difficulties of the Brexit negotiations, transition measures will avoid risk of market disruption.
What matters is that "we come down to an agreement which is as peaceful and forward-looking as possible," said Padoan, a former chief economist at the Organization for Economic Cooperation and Development. He added that "we will then have to ask ourselves what will Europe be after Brexit, after Brexit is completed, and this is the big question."
EU policymakers face "difficult negotiations" with the U.K. government and they will need to speak with one voice "under the leadership of the European Commission," he said.
Banking Woes
Padoan said he believes Italy's banking problems have now been resolved because the government is dealing with them in agreement with European institutions.
"The problem with the banks has been solved in the sense that there are still some critical points, but now we find the solutions within a European rule context," he said.
Last month, Italy's parliament approved a law to plow as much as 20 billion euros ($21.5 billion) into Banca Monte dei Paschi di Siena SpA and other troubled lenders as part of the nation's efforts to revamp its banking industry. The legislation, converting a decree passed by Prime Minister Paolo Gentiloni's cabinet in December, includes emergency liquidity guarantees and capital injections for struggling lenders in compliance with state aid rules. It allows banks to request precautionary recapitalizations that would see some bondholders take a hit.
Monte Paschi was the first bank to seek funds under this new program after it failed to raise fresh money from investors in December, when the European Central Bank declared the Siena, Italy-based lender solvent. Still, in the view of some ECB Supervisory Board members, while Monte Paschi cleared the hurdles for aid, its viability was bolstered by unrealistic valuations of its bad loan portfolio, people familiar with the ECB's decision said.
Political Outlook
In the interview, Padoan who also served in the previous government led by Matteo Renzi played down concerns about Italy's political outlook. He said that despite Gentiloni taking over as prime minister, the country's "strategy of reforms which has been the hallmark of the Renzi and Gentiloni governments will continue."
Padoan, who has made a pitch for luring financial firms to Milan, said it's unlikely that London's position in the financial industry will be jeopardized by Brexit.
"I don't think that there is any other London in Europe in the foreseeable future which means that there are more opportunities for major cities of Europe to do at least part of the financial industry's business," he said. "I would like to see it as a network of cities rather than as a friction between cities."
— With assistance by Alexander Weber
(
Adds comment on Brexit in fifth paragraph.
)
Before it's here, it's on the Bloomberg Terminal.
LEARN MORE