business
Horse Market Stays in the Race, Despite Decade Long Decline
The industry generated more than $23 billion in sales last year.
By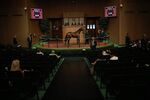 Owning a pony just isn't as popular as it once was, but the horse industry isn't lame yet.
A new report from market researcher Packaged Facts predicts that the equine market will finish the year strong after a decade of steady declines.
An estimated 9.2 million horses reside in the U.S., the majority of which are used for recreation and showing, according to the American Horse Council. The industry generates $102 billion, including direct, indirect, and induced spending, for the U.S. gross domestic product. 
Packaged Facts estimated that the U.S. equine market generated sales of $23.4 billion last year, a 2.7 percent decrease in its compound annual growth rate from 2012 to 2016, and will drop to $20.3 billion by 2020. While new horses aren't being registered as often, the cost of keeping a horse, such as paying for its feed and care, are going up to compensate. 
The report's author, George Puro, said the industry is holding steady. He was quick to point out that stabilization isn't growth. "It may be smaller declines." 
Pet ownership as a whole is up over the past decade, but horse ownership is down. In 2004, some 4 percent of households reported owning at least one horse. That fell to about 2 percent in 2010 and has hovered around that rate since, with 2.6 percent reporting owning a horse, according to the most recent National Pet Owners Survey. 
Although horses aren't necessarily expensive to buy, so long as you stay out of high-end thoroughbred territory, caring for them is considerably pricier than the roughly $500 a year that dog owners spend. 
"The equine market is markedly different from the rest of the pet market, and therefore should not be expected to follow the same trends. Still, the bond between human and horse is strong, and that bond gives industry marketers reasons for optimism despite the drop in pet ownership," David Sprinkle, the research director at Packaged Facts, said.
Despite decreases in horse ownership, the equine economy has been bolstered by the popularity of horseback riding among young millennials. Horseback riding has remained consistently popular for this generation, Packaged Facts determined, and affection for the sport is typically passed down among family members, "indicating enthusiasm for the activity hasn't been lost among some of the most influential consumer segments."
The rise of equine therapy, which is used to treat a variety of emotional and physical issues, has also helped the industry, Packaged Facts said in the report. Horse show participation is also increasing. The recent Triple Crown bolstered interest in the horse industry among nonowners: 10.2 percent of those surveyed reporting watching horse racing last year, the first race after American Pharoah took the crown, compared to 8 percent in 2013. 
Before it's here, it's on the Bloomberg Terminal.
LEARN MORE