China Watchers Tone Down Stock Calls on Monetary Tightening
Bloomberg News
Shanghai's benchmark to gain 2.4% in second quarter: survey

Deleveraging, yuan pressure to weigh on risk appetite: analyst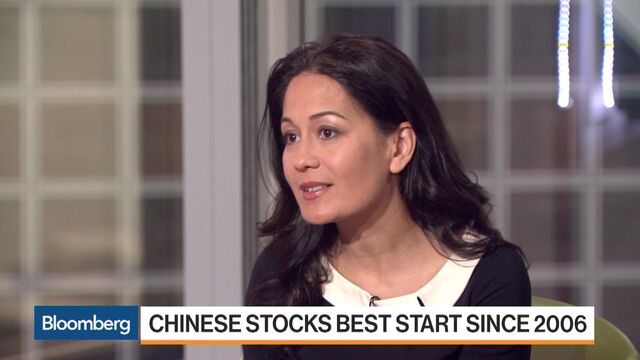 China's stock market will see limited gains in the next three months, with tightening onshore liquidity the main hurdle, according to analysts.
The benchmark Shanghai Composite Index may climb to 3,300 points by end-June, according to the median forecast in a Bloomberg poll of nine analysts and fund managers. That implies a quarterly rise of just 2.4 percent from Friday's closing level of 3,222.5. The gauge has underperformed most of its Asian peers so far this year with a 3.8 percent gain, even as regulators were said to have intervened in early March to support equities amid an annual gathering of China's National People's Congress.
A sense of caution has prevailed since the central bank shifted toward selective tightening through money-market rate increases late last year, while mounting pressure on the yuan amid the prospect of more Federal Reserve rate hikes have exacerbated worries. Earlier this month, fund houses including China Southern Asset Management Co., the country's fifth-largest mutual fund manager by assets, voiced concern over mainland shares and cited possible monetary tightening as the main risk.
"We will likely see a lower risk appetite in the second quarter as China tightens its grip on monetary policy and liquidity conditions amid greater yuan depreciation pressure after the U.S. rate hike, " said Wu Kan, a Shanghai-based fund manager at Shanshan Finance Co.

The People's Bank of China will keep a tight rein on money-market rates this year, raising the cost of short-term funds at least twice in a bid to cut leverage in the financial system, a separate Bloomberg survey showed. Policy risks in real estate is something else to watch for, according to Zhang Haidong, a fund manager at Jinkuang Investment Management in Shanghai.
"It's likely that China will continue with more property curbs for the rest of the year," Zhang said, adding that the control measures put in place since last year will remain a drag on demand for homes, as well as materials used in the industry chain such as iron and steel. China's capital Beijing, eastern Hangzhou and southern Xiamen recently joined the growing ranks of cities that have rolled out tougher rules to rein in home prices.
Analysts now expect the Shanghai Composite to finish the year at 3,525, according to eight analysts and fund managers that provided end-2017 targets, compared with the consensus target of 3,800 points from 12 strategists and fund managers polled by Bloomberg in December.
Better Start
Chinese equities traded in Hong Kong had a better start to the year, posting a 9.4 percent gain as of Friday's close. About 102 billion yuan ($15 billion) worth of funds poured into the city's stock market so far in 2017 via exchange links with Shanghai and Shenzhen as mainland investors sought to hedge against yuan devaluation. The premium that mainland-traded shares command over their Hong Kong-listed peers shrank to 14 percent earlier this month, the narrowest spread since December 2014.
Hong Kong-listed Chinese shares won't perform nearly as well next quarter, according to analysts surveyed by Bloomberg. Corporate earnings may worsen on slower economic growth, while a faster rate-increase cycle in the U.S. might trigger outflows from the city. The median of six estimates in the survey show that the Hang Seng China Enterprises Index may end June at 10,500 points, implying a quarterly rise of 2.2 percent.
The index slid 0.8 percent at Friday's close while the Shanghai Composite Index edged up 0.4 percent.
Infrastructure-related stocks are preferred in the second quarter by most analysts in both A- and H-share markets as China continues to push its One Belt One Road initiative
Analysts also like healthcare among A shares and technology plays in Hong Kong
Most analysts dislike cyclical resource stocks and small-caps without solid earnings growth in the mainland, and property shares in Hong Kong
The participants in the Bloomberg survey that provided index targets for the Shanghai Composite included ABCI Securities Co., AXA SPDB Investment Managers Co., Central China Securities Co., Dongxing Securities Co., First Shanghai Securities Co., Horizon Insights, Jinkuang Investment Management, Sun Hung Kai Financial Ltd., Yuanta Securities Co.
— With assistance by Amanda Wang, Jeanny Yu, Feng Cai, Amy Li, and Lillian Chen
Before it's here, it's on the Bloomberg Terminal.
LEARN MORE