Britain's Breakaway Haunted by Continued Role of EU Judges
By and
Court likely to have strong function in any transition phase

U.K.'s May appears to soften stance in trigger letter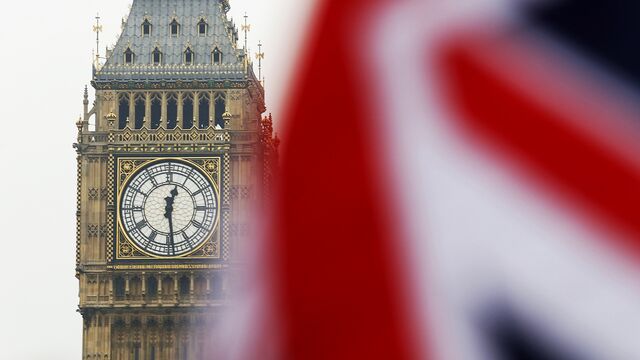 U.K. Prime Minister Theresa May might have to put up with European Union courts wielding power over British law for a while longer if she wants a smooth withdrawal from the bloc.
Having vowed in January to end the jurisdiction of the European Court of Justice over the U.K., May this week appeared to soften her stance and was also told by continental lawmakers that she would have to if she wanted any transition between leaving the EU and new trading rules taking effect.
"Theresa May seems to have intimated that during any transitional period she'd be willing to accept the EU court's jurisdiction," said Phillip Souta, head of policy at law firm Clifford Chance. "Basically, the price of a transition might be the U.K. accepting the court."
Any pullback by May from her previous hard-line might help avoid a clash with the EU which would threaten to imperil the sweeping trade deal she wants. Brexit Secretary David Davis nevertheless said on Thursday that the Luxembourg-based judges would play "no future role" in the U.K. after Brexit and that the U.K. wanted "maximum legal certainty" when it leaves.
What's difficult for Britain is that one of the court's functions is to police the EU's single market for goods and services -- to which May has said she wants the U.K. to have "the greatest possible access" even when outside it.
Such Access
In her letter of Wednesday formalizing the U.K.'s intention to leave the EU, May seemed to acknowledge that such access is only possible under the EU's regulatory regime.
"U.K. companies will, as they trade within the EU, have to align with rules agreed by institutions of which we are no longer a part -- just as U.K. companies do in other overseas markets," May wrote.
Many European governments say it's impossible to marry the U.K.'s trade ambitions with its despising of the court. Any refusal to accept its arbitration authority would strip British companies of any form of direct access to the region's markets, according to an EU government official close to the Brexit negotiations, asking not to be named because the talks are private.
The European Parliament, which has a veto over the Brexit deal, also said this week that the court should maintain a role in the U.K. during any transitional phase between the U.K. leaving and a full trade agreement taking effect.
It said in a proposed resolution that the EU court "must be responsible for settling any legal challenges'' during such a transitional period. May this week acknowledged "implementation periods" might be needed to ease the break from the EU.
'Vote Leave'
Britain's pro-Brexit camp spent decades accusing the EU court of meddling in national affairs and stealthily awarding itself ever more powers. In the days before Britain's EU referendum in June, the "Vote Leave" campaign focused attention on cases where the EU court had overruled U.K. laws on emotive issues such as counter-terrorism powers, refugee policy and whether prisoners should be allowed to vote.
But if May stays true to her earlier position and demands a severing of ties with the European court, it will significantly limit the scope of a future U.K.-EU relationship, according to lawyers.
"If the ultimate goal is to avoid the ECJ's jurisdiction, that will determine in large part what sort of exit deal and trade agreement the U.K. could negotiate with the EU," Romano Subiotto, a partner specializing in EU and antitrust law at the law firm Cleary, Gottlieb, Steen & Hamilton LLP, said in an interview. "Single-market access will be conditioned on the U.K.'s compliance with the single-market legislation under the ECJ's jurisdiction," he said.
From legal action the EU brings against individual countries for violating its treaties to rulings on data privacy and workers' rights, the court's word is binding on national governments in the bloc. This month alone, the court has issued rulings backing governments' flexibility on sales-tax rates, allowing companies to ban religious dress in some cases, and forcing telephone companies to hand over subscriber data to companies in other EU countries that request it.
Trade Pact
While a future trade pact may not necessarily give the EU court full arbitration powers, it will be difficult to create a dispute-resolution mechanism completely outside of its authority, lawyers say.
In any case, British firms would still have to abide by its rulings in areas such as competition. In addition, the court may be asked to verify the legality of any trade deal itself and would be involved in policing the regulations in areas in which the U.K. wants convergence with European regimes in the years to come.
"The more the U.K. applies EU rules -- on financial services, air transport, mutual recognition of qualifications -- the more it will need to submit itself to, and comply with, some form of EU dispute-resolution mechanism,'' Angus Armstrong and Catherine Barnard, senior fellows at The U.K. in a Changing Europe research group based at King's College London, said in a report. 
"As Norway and Switzerland have discovered, compliance with EU law includes compliance with EU remedies," they said.
— With assistance by Nikos Chrysoloras, Jonathan Stearns, and Tim Ross
Before it's here, it's on the Bloomberg Terminal.
LEARN MORE