business
Brexit Bulletin: Trade or Terror?
The U.K.'s attempt to link security to a trade deal prompts accusations of blackmail.
By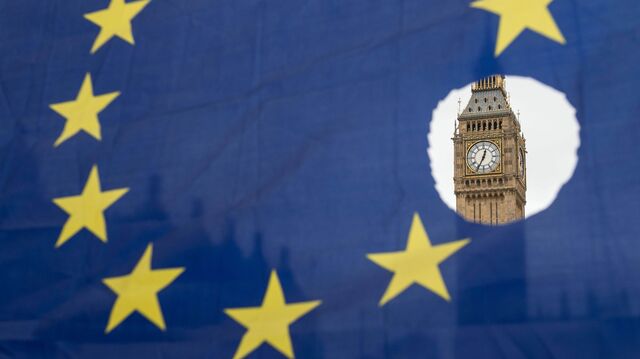 Sign up to receive the Brexit Bulletin in your inbox, and follow @Brexit on Twitter.
Proof, if it was ever needed, that two years of Brexit talks will be hard going came within hours of Theresa May triggering them.
For all the niceties about the European Union included in her six-page letter, it was the British prime minister's attempt to link a sweeping free trade deal to cooperation on security that drew the focus and prompted accusations of blackmail.

"Security is far too important to start to bargain it against an economic agreement," declared Guy Verhofstadt — the European Parliament's point person on Brexit matters and someone who will have a say on the final outcome.
Brexit Secretary David Davis said on Thursday the government wasn't engaging in blackmail and wouldn't withdraw cooperation, but security will be part of the negotiation.
Other obstacles were quickly thrown in May's way: EU President Donald Tusk and German Chancellor Angela Merkel denied May's bid to discuss divorce and a new trade relationship in parallel. Others reminded her they want Britain to pay an exit fee and the European Parliament warned that any post-Brexit transition will be hard won and time-limited. To help make her case, May penned columns for newspapers from Sweden to Germany. 
Tim Ross, Robert Hutton and Jonathan Stearns break down just what we learned on Day One.
Among their observations: May mentioned "security" 11 times. She made her clearest demand yet for a trade deal to cover financial services, said she wanted a transitional arrangement, and signaled the U.K. wants to settle its bills but has claims too.
The divorce bill may range between €25.4 billion and €65.1 billion, think tank Bruegel says in new research out on Thursday. Dutch Foreign Minister Bert Koenders said in an interview that the amount is up for negotiation and that the "devil is in the detail."
Bloomberg's Gavin Finch reports that banks were encouraged by what they heard, but noted any trade pact including finance would be unprecedented and will take time to piece together. Goldman Sachs, JPMorgan and Morgan Stanley all signaled they are still preparing to shift staff from London. Lloyd's of London said on Thursday it will set up a new European unit in Brussels. 
What Next?
The EU now has control. By Friday night, Tusk will have circulated a draft of guidelines for the negotiations, but leaders won't ratify them until April 29. Merkel, Tusk and EU Commission President Jean-Claude Juncker are all in Malta on Thursday.
Here are profiles of the negotiators you don't know, but should.

Taking Back Control
Day Two of Brexit will see the U.K. government begin to reclaim power over 19,000 European laws.
It will publish proposals to incorporate them into U.K. law on the day Britain leaves the EU so as to ensure regulatory certainty. The ultimate "cut and paste" job will enable lawmakers to decide which bits of European legislation to keep and which to scrap.
 "At the heart of the referendum decision was sovereignty," Brexit Secretary David Davis said. "A strong, independent country needs control of its own laws. That process starts now."
For all you need to know about the "Great Repeal Bill," read our QuickTake Q&A by Thomas Penny and Alex Morales.
Will the Sweet Spot Turn Sour?
Perhaps the biggest surprise since the referendum has been the economy's resilience.
Now that the process of withdrawal is actually under way that may be eroded as investors and businesses face the reality of changes in regulation and immigration, while also bracing for contentious talks.
Jill Ward and Lucy Meakin discuss how long the sweet spot can last.

Remember, the Bloomberg Brexit Barometer is a daily guide to the state of the economy. It fell on Wednesday and will be updated around 10:30 a.m. in London.
One reason for confidence is that some home buyers have regained confidence in the U.K. real estate market, according to Sharon Smyth and Jack Sidders. While London house prices fell after June's vote, they rose across the country as a whole — albeit not as quickly as before.
On the Markets
The pound fell slightly on Wednesday to a one-week low, but many analysts reckon its 16 percent slide since the referendum won't be extended until there's more clarity on the negotiations. Anooja Debnath and Sid Verma wrap up the views of strategists.

BlackRock, the world's largest money manager, is still keeping faith with sterling, according to Scott Thiel, deputy chief investment officer of global fundamental fixed income.

Angst is evident in the metals market where worries over possible fallout from Brexit are helping to send gold toward its biggest quarterly gain in a year.
And Finally…
Celebrating Brexit day would have come at a price in Britain. Distiller Pernod Ricard, whose brands include Absolut vodka and Martell cognac, said on Wednesday that it has been raising prices on its spirits and wines in the U.K. to offset the weaker pound.
For more on Brexit follow Bloomberg on Twitter, Facebook and Instagram, and see our full coverage at Bloomberg.com
Before it's here, it's on the Bloomberg Terminal.
LEARN MORE