Macron Backed by Valls, Leaving French Socialists in Crisis
By , , and
Valls will vote Macron, seriously splitting Socialist Party

Penelope Fillon charged in no-show jobs investigation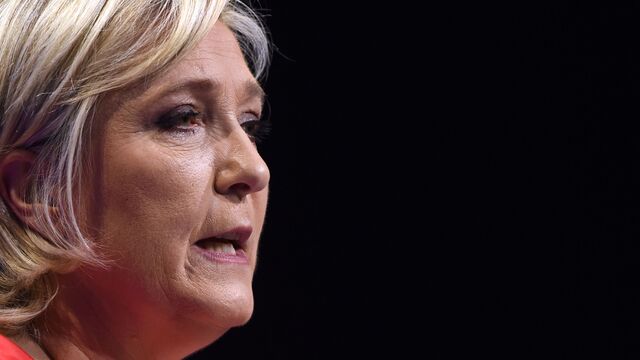 Emmanuel Macron solidified his position as the front-runner in the French presidential election, picking up a key endorsement as rival Francois Fillon's legal woes continued.
Former Prime Minister Manuel Valls said he will vote for Macron in the first round of the presidential race April 23 instead of Socialist Benoit Hamon, setting off a crisis within France's oldest party. Valls said the 39-year-old independent is best-placed to stop the National Front's Marine Le Pen and her bid to take France out of the euro.
With just over three weeks before the first round of voting, polls show Macron and Le Pen are most likely to qualify for the May 7 runoff while voters look set to eliminate both the main parties' candidates for the first time since France began directly electing its presidents 50 years ago.
"One must not take any risks with the Republic," Valls said in an interview with RMC radio. "Therefore I'll vote for Emmanuel Macron. The interests of France are above that of the rules of any party or primary." He said he fears Le Pen's support is under-reported by polls.
Read More: A QuickTake on Polling for France's Election
Hamon shot back angrily at Valls, calling his behavior "dishonorable."
Macron who served as economy minister under Valls before quitting to run on his own, was speaking on another radio station when his former boss gave his endorsement. Macron thanked Valls for his support but said he remained politically independent and committed to renewing the personalities and practices of French politics. Valls also said he didn't plan to work with Macron.
Hamon called on leftists from "social-democrats" to communists to back his "transformative and credible project," including those who now support rival leftist candidate Jean-Luc Melenchon, who is running slightly ahead of Hamon. Last Sunday, Hamon said on France 2 television that he's been "stabbed in the back" by Socialists who have endorsed Macron.
Melenchon rejected Hamon's call. "I am not going to give up on this journey to get involved in some sort of who-knows-what arrangement," Melenchon told 5,000 supporters at a rally late Wednesday in the Channel port of Le Havre. He said he'd never submit to the Socialist Party because it's "renounced the fight against trans-national finance."
Socialist President Francois Hollande decided not to run for re-election because of his record-low popularity, but the party primary exposed a deep divide between a leftist wing represented by Hamon and a rival faction, headed by Valls, that is more concerned about business and public order.
According to Bloomberg's composite of opinion polls, Macron would win 25 percent of the vote and Le Pen 26 percent on April 23. Fillon lags at 19 percent, Melenchon at 14 percent and Hamon at 10 percent. Another six candidates share the remaining votes. Every poll has shown Macron easily winning the May 7 run-off over Le Pen.

With Hamon struggling and Le Pen cozying up to Russia's Vladimir Putin as she threatens to upend the European Union, other Socialist heavyweights such as former Paris mayor Bertrand Delanoe and Defense Minister Jean-Yves Le Drian have supported Macron.
Hamon supporters accused Valls of reneging on a promise to support whoever won the primary, with Arnaud Montebourg, a former industry minister, saying Valls "has no honor."
Valls said Hamon and Montebourg can't give lessons in loyalty because they both quit his government in 2014 and belonged to a group of Socialist lawmakers who proudly called themselves "les frondeurs," or rebels, and opposed many government laws.
Socialist Party head Jean-Christophe Cambadelis said on BFMTV that he was "saddened" by Valls decision and called on party members to "keep calm."
Fillon supporters jumped on Valls' endorsement to drive home their view that Macron would be a continuation of Hollande's unpopular term. Luc Chatel, a former education minister and Fillon spokesman, said on LCP television that Macron was a "trainee intern" for the outgoing government.
Macron has also received support from centrist former presidential candidate Francois Bayrou, as well as Renaud Dutreil and Dominique Perben, former ministers under conservative President Jacques Chirac. Dominique de Villepin, who was prime minister under Chirac, said March 9 that he won't be voting for Fillon while praising Macron's audacity and democratic principles.
The Republican Fillon had been the establishment favorite to beat Le Pen before newspaper reports in late January led to criminal charges over his wife's employment as a parliamentary aide. Penelope Fillon was on the public payroll for more than a decade even though other aides couldn't recall ever seeing her at work. She was also charged late Tuesday.
While that development doesn't change Fillon's legal status, it does increase the pressure he would face in the unlikely event of him winning the election. While Fillon himself would enjoy immunity from prosecution for the duration of his presidency, the prosecution of his wife, and the public scrutiny of his affairs, could continue. Fillon has denied the charges against him and says the case is politically motivated.