Le Pen's FN Said to Have Sought to Plug Deficit With EU Cash
By
National Front treasurer said party was spending too much

French investigators probing Le Pen over misuse of EU funds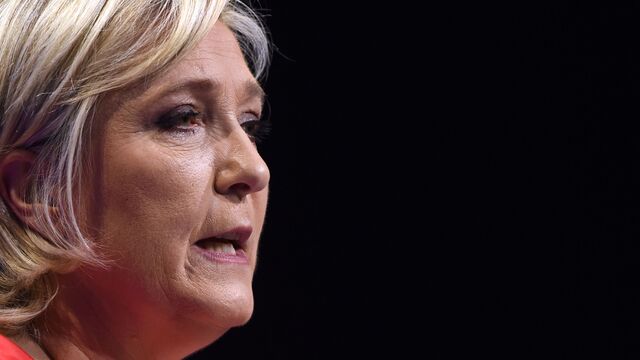 French presidential candidate Marine Le Pen was told by the National Front's treasurer three years ago that her party would have to plug its deficit with European Union money, according to a person familiar with an investigation into the misuse of EU parliamentary allowances.
Wallerand de Saint Just wrote to Le Pen weeks after the National Front made inroads in the 2014 European Parliament elections to tell her spending was spiraling out of control. The letter was first reported by the French newspaper Le Monde on Wednesday morning. It was found last month as French police raided the party's headquarters for the second time to gather evidence, and its contents were confirmed by the person with knowledge of the probe. Le Pen's office didn't immediately respond to requests for comment.
In the letter, de Saint Just also said the party had spent around 1.2 million euros ($1.3 million) more than the previous year, and that it would only get by in the years to come if it were to make savings "thanks to the European Parliament" and secure extra funding.
The National Front's support has increased over the years, but funding is a recurring problem. During the presidential campaign, Le Pen complained that French banks had refused to meet with her to discuss the possibility of financing her presidential campaign. In 2014, her party was criticized for receiving funds from a Russian bank, that has since failed, linked to an ally of President Vladimir Putin.
The French probe seeks to determine whether the National Front improperly used EU money to pay the salaries of aides. Le Pen's head of cabinet has already been charged and ordered by European Parliament to repay 336,146 euros. She refused, saying the jobs weren't fictitious and has appealed the decision.
While Le Pen has so far been able to brush off accusations she misused funds, Republican contender Francois Fillon was roiled by a probe into whether his wife actually worked while she was on the parliament's payroll as his aide. News of the investigation in late January knocked about ten points off Fillon's support in the polls, relegating him to third place, behind Le Pen and independent candidate Emmanuel Macron, and cutting him out of the May 7 runoff.