Photographer: Dhiraj Singh/Bloomberg
Landmark Tax Change a 'Huge Implementation Challenge' For India
By and
Initially there's going to be bumps on the road: Modi adviser

Companies seek clarity on specific rates, tax breaks
While India's on track to meet its deadline for a much-delayed national sales tax, implementation is seen as a test in the nation that has more states than the EU has members and a population twice that of North America.
The goods and services tax will replace more than a dozen levies that were fracturing the world's fastest-growing big economy, unifying India for the first time into a common market with more than 1 billion consumers. Proposed over a decade ago and since then refined to win bipartisan support under Prime Minister Narendra Modi, roll out is scheduled for July 1.
"It's a massive tax change, administrative change at the center and the states, lots of procedures, processes, new forms, so there's a huge implementation challenge," Arvind Subramanian, Modi's chief economic adviser, said Wednesday in a Bloomberg Television interview from Hong Kong. "But I think that's going to be a temporary thing. Initially there's going to be bumps on the road."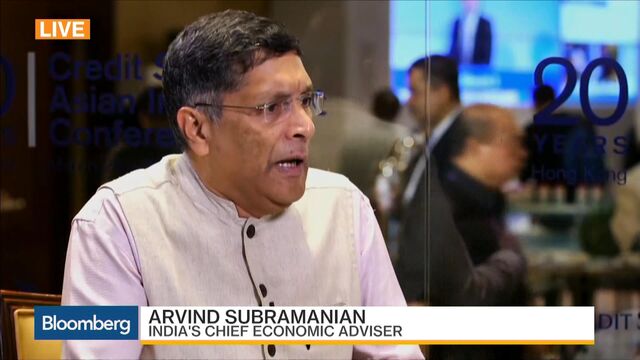 Subramanian's comments come as lawmakers debate bills to finalize the structure of the GST. Parliament needs to approve the legislation in the session ending April 12 to meet the government's deadline, and a select group of ministers are hashing out various other rules behind the scenes, including which goods will be taxed at what rate.
Read: India Sales Tax Milestone a Step Closer With New Series of Bills
The introduction of the four bills is a "concrete step toward implementation from July 1," said Santosh Dalvi, partner, indirect tax, at KPMG in India. However -- apart from the classification of goods and services -- companies are also seeking clarity on whether existing tax exemptions will continue and need enough time to prepare their technology and compliance structures, he said.
Read: Multinationals in India Fret Over IT Readiness, Urge GST Delay
Nightmare, Draconian
The GST bills have defects that will lead to a "technological nightmare," increase the cost of compliance and administrative complexity, and discourage companies because of a "draconian" anti-profiteering clause, said M. Veerappa Moily, a lawmaker of the main opposition Congress party.
"One nation-one tax -- it's only a myth," Moily said, referring to the multiple tax slabs under the proposal. "Intentions are very good. But ultimately we are landing this country in areas of tax distortion and that can be anarchy."
Finance Minister Arun Jaitley is scheduled to reply to concerns raised by lawmakers in parliament later on Wednesday.
— With assistance by Karl Lester M Yap, and Andy Clarke
Before it's here, it's on the Bloomberg Terminal.
LEARN MORE