technology
HGTV Owner Pays CEO $28.7 Million, With Chunk Tied to Succession
By and
Lowe will become executive chairman once replacement is found

Got $19 million in stock tied to financials, succession plan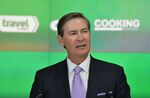 Scripps Networks Interactive Inc. awarded Chief Executive Officer Kenneth Lowe $28.7 million last year to make sure he stays until 2019 and helps find his successor.
Lowe, who's also chairman, received $2.5 million in stock tied to succession-planning goals. That'll vest in 2019 or when a new CEO is appointed, the company said in a regulatory filing Wednesday. He also got $16.5 million in shares, mostly linked to financial targets including adjusted net income and earnings before interest, taxes, depreciation and amortization.
Shares of Scripps rose 29 percent last year, outperforming bigger rivals like Walt Disney Co., 21st Century Fox Inc. and Viacom Inc. The company is home to several channels, including Food Network and Travel Channel. Its home-improvement channel, HGTV, thrived even as many people tuned into cable news during the election. HGTV was the third most-watched U.S. cable network in prime time in 2016, ahead of CNN and behind only Fox News and ESPN.
Lowe, 66, who's been CEO of Scripps and its predecessor since 2000, will become executive chairman of the Knoxville, Tennessee-based company once a successor is named, and will be required to work no more than 20 hours a week, his employment contract shows. 
Lowe's total 2016 pay also included $1.89 million in stock options, a $3.3 million cash incentive, a pension gain of $2.03 million and other compensation of about $800,000. He received a $9.32 million pay package in 2015.
Before it's here, it's on the Bloomberg Terminal.
LEARN MORE