Christie's Former Allies Get Prison Time for Bridgegate Roles
By and
Bill Baroni, Bridget Anne Kelly sentenced for Bridgegate roles

Prison time contrasts with probation for ex-ally David Samson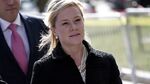 As New Jersey Governor Chris Christie was in Washington touting a commission to combat drug addiction, a federal judge back home assailed the political climate he created and sentenced two of his ex-allies to prison for their roles in the scandal known as Bridgegate.
Bill Baroni was sentenced to two years in prison and Bridget Anne Kelly got 18 months for their role in a politically motivated plot to create traffic jams near the George Washington Bridge in 2013.
"It was clear to me that the environment in Trenton created a culture that you're either with us or you're against us," U.S. District Judge Susan Wigenton told a tearful Kelly on Wednesday in federal court in Newark. "You got caught up in a culture and an environment that lost its way." 
The judge agreed with prosecutors that they were involved in "an outrageous display of abuse of power" designed to punish the mayor of Fort Lee, New Jersey, for failing to endorse the governor's re-election in 2013. She also blamed Kelly and Baroni for a cover-up. 
The sentencing caps a scandal that burst onto the national political scene in January 2014, just as Christie was trying to leverage his landslide re-election in 2013 into the Republican nomination for president. Christie's popularity steadily sunk as the scandal swamped his administration, and testimony at the six-week trial depicted him as a profane bully. Christie, who said he wasn't aware of the plot at the time it was executed, suggested that Bridgegate played a role in Donald Trump not choosing him as his running mate. 
Political Fallout
Christie lost a key position with Trump's transition team and pledged to finish out his term in office. He traveled to Washington Wednesday for a round-table discussion on the opioid epidemic and related television appearances.
"We must conclude that the judge's ill-advised remark is based on the perjurious testimony of three convicted felons," Brian Murray, a Christie spokesman, said in an email. "The work of the people who have been employed by the governor's office has been honest, honorable, bipartisan and effective. The actions of the felons was the sad and unacceptable exception to the way the office has conducted itself for seven years."
Baroni, a 45-year-old lawyer and former state lawmaker, and Kelly, 44, were convicted of conspiracy, fraud and civil rights violations on Nov. 4. Both apologized Wednesday to the people of Fort Lee for closing access lanes to the bridge without notice, but promised they will overturn their convictions on appeal. 
"I realize how disruptive and frustrating the lane re-alignments were for the people of Fort Lee," Kelly told the judge. But she continued to press her case, which she made during the trial, that she was tarred by Christie's administration and that she told the governor a month before the lane closings about a planned traffic study. 
Outside the courthouse, Kelly, a divorced mother of four who had asked for probation, said: "I want to assure my kids and everyone else that this fight is far from over. I will not allow myself to be the scapegoat in this case."
Regrets Offer
Baroni also expressed remorse at his hearing, apologizing for ignoring frantic phone calls from Fort Lee Mayor Mark Sokolich who was seeking an explanation for traffic that caught commuters, school buses and emergency vehicles in gridlock on the first week of school.
"I regret more than anything that I allowed myself to get caught up in this," Baroni said. "I let the people of Fort Lee down. They deserved someone in my position to try to stop it. I took the wrong guidance, listened to the wrong people. I was wrong. I am truly sorry."
Baroni was Christie's top executive at the Port Authority of New York and New Jersey, which runs the bridge, while Kelly was a deputy chief of staff for Christie. Baroni and Kelly fared far worse at sentencing than David Samson, Christie's former appointee as chairman at the Port Authority, who pleaded guilty last year in a separate corruption case. 
On March 6, Samson got probation and house arrest after admitting that he pressured United Airlines to offer a flight to an airport near his South Carolina weekend home. U.S. District Judge Jose Linares said Samson is entitled to credit for a lifetime of good work and service. Samson, 77, will help a nonprofit set up a soul-food restaurant to foster jobs training and employment while he spends a year confined to his South Carolina estate.
Sentence Components
Judge Wigenton rejected calls by both Baroni and Kelly for similar terms of home confinement. Beyond the prison terms, she ordered both to serve 500 hours of community service while on probation and pay $14,314 in restitution. She fined Baroni $7,500 and Kelly $2,800. She will allow both to remain free on bail pending appeal.
Both testified at trial that they were duped by David Wildstein, Baroni's former right-hand man who pleaded guilty. Wildstein admitted he orchestrated the plot, and he testified as the prosecution's star witness about how they intended to ignore Sokolich's pleas for help.
The judge said both Baroni and Kelly lied to the jury in their testimony, although he was more culpable than her in the lane closings, which was executed by the Port Authority.
"While you attempted to cast David Wildstein as the evil mastermind, you, too, played a pivotal role," Wigenton told Baroni.
In seeking leniency, Baroni and his lawyers submitted 122 testimonial letters citing his public service as a state lawmaker, role as a mentor to dozens of people, and advocacy for lesbian, gay, bisexual and transgender people. He also cited his work as an informant to the Federal Bureau of Investigation a decade ago on corruption in Trenton.
While Baroni said he is full of remorse, prosecutors slammed him as lacking true regret because of the way he lied to jurors and a state legislative committee in 2013. 
"Mr. Baroni's conduct was brazen, calculated and a mean-spirited abuse of power," said Assistant U.S. Attorney Lee Cortes. "He corrupted his office to send a petty, vindictive political message."
A 2013 Traffic Jam That Still Dogs Chris Christie: QuickTake Q&A
Fort Lee officials said the the gridlock impeded the search for a missing 4-year-old and the response to a cardiac arrest. The judge faulted Baroni for that plan of "radio silence."
"It is extremely difficult to fathom that on Sept. 9, 10, 11, and 12 of 2013, you did not respond to Mayor Sokolich," Wigenton said. "People were trapped in traffic in some senseless political vendetta."
About a month before the lane closings, Kelly sent Wildstein an infamous email that said "Time for some traffic problems in Fort Lee."
The case is U.S. v. Baroni, 15-cr-00193, U.S. District Court, District of New Jersey (Newark).
— With assistance by Elise Young
Before it's here, it's on the Bloomberg Terminal.
LEARN MORE