business
Canadian Western CEO Sees M&A 'Sweet Spot' for Wealth Management
By
Takeovers part of strategy to diversify beyond Western Canada

Bank seeks wealth manager with up to $1.5 billion of assets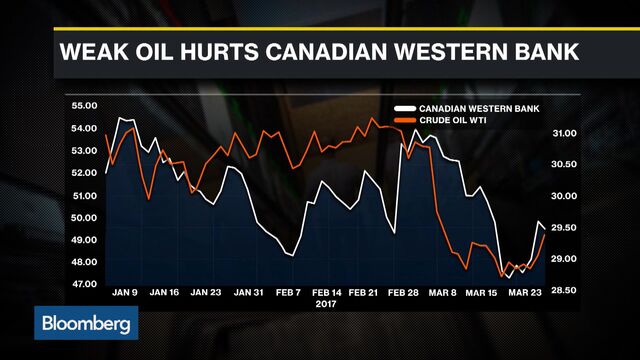 Canadian Western Bank would consider more takeovers to expand its wealth-management business and increase mid-market commercial lending, Chief Executive Officer Chris Fowler said.
The bank's existing wealth operations mainly target entrepreneurs through a retail branch network that stretches from Vancouver Island to Winnipeg, and the lender remains on the lookout to add to that, according to Fowler. Firms in Western Canada with C$1 billion ($748 million) to C$2 billion of assets under management "are of great interest," he said.
"That's the sweet spot for us, and our goal is to add scale," Fowler, 57, said Wednesday in an interview in Bloomberg's Toronto office.
Canadian Western also has been buying commercial-focused firms in the past seven years to expand beyond Alberta and British Columbia, starting with an equipment leasing company in 2010. Last year, it bought a franchise-financing business from General Electric Co. and a commercial lender, since renamed CWB Maxium Financial. Acquisitions are part of Edmonton-based Canadian Western's strategy to increase its operations in Ontario, Canada's most populous province, Fowler said.
"We always look," he said. "If there's an opportunity to buy another mid-market commercial lender that made great sense from a strategic, accretive and cultural perspective, we would absolutely be interested."
Before it's here, it's on the Bloomberg Terminal.
LEARN MORE