Brexit Bulletin: No Turning Back
Britain and the EU stand on the brink of a new era.
By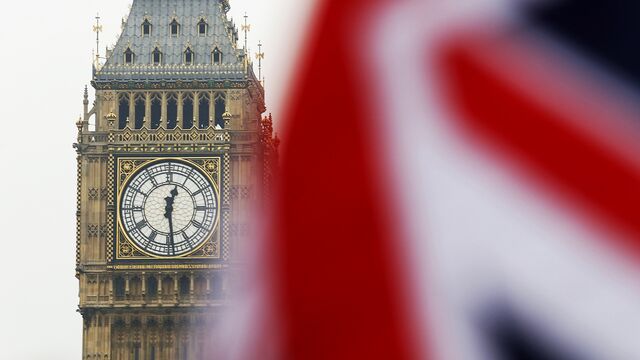 Sign up to receive the Brexit Bulletin in your inbox, and follow @Brexit on Twitter.
It is 279 days since Britons unexpectedly voted to leave the European Union. After four decades in the club, the U.K. will on Wednesday formally trigger two years of divorce talks.
Prime Minister Theresa May will make the split official around 1:30 p.m. Brussels time via a hand-signed letter passed to EU President Donald Tusk by Tim Barrow, the U.K. envoy to the bloc. So secret is the letter that not even some of May's senior ministers had seen its contents before she signed it in the Cabinet room on Tuesday afternoon.

In London, the premier will convene the Cabinet around 8 a.m. and later address Parliament, when she will bid to unite the country:
"It is my fierce determination to get the right deal for every single person in this country. Now that the decision has been made to leave the EU, it is time to come together."
Receipt of the letter will invoke Article 50 of the Lisbon Treaty, which has never been used before, and set in train complex discussions spanning topics ranging from security and immigration to trade and the handling of nuclear materials.
Whatever the two sides agree, the process will redefine Britain's relationship with its largest trading partner and bring to an end decades of deepening political integration in Europe.  
Philip Wood of the law firm Allen & Overy identified 339 negotiating points and warned of the potential for the talks to turn toxic:
"The best way to secure agreement quickly is for each side to understand the viewpoint of the other side. The most unsatisfactory result would be for the parties not to agree so that the U.K. just exits unilaterally. We believe that this might leave the U.K. and the other nations of Europe embittered and resentful for a generation."
May took office in July, lacks her own electoral mandate and faces intense expectation for her to perform from many within her own Conservative Party. No pressure, then.
For an insight into what drives May, and what will shape the talks, Bloomberg's Tim Ross traveled to one of the poorest neighborhoods in Birmingham, where he found a guide to her vision for post-Brexit Britain.
We have a host of other reports and resources for you today as well:

Charm Offensive
May adopted an upbeat stance on the eve of the talks, telling the EU she hopes it will "secure a new deep and special partnership" between the bloc and the U.K.
She also telephoned Tusk, German Chancellor Angela Merkel and European Commission President Jean-Claude Juncker. "They agreed that a strong EU was in everyone's interests and that the U.K. would remain a close and committed ally," her office said. Juncker said the call was "good and constructive."

May has good reason for reaching out, according to Anand Menon, director of U.K. in a Changing Europe:
"Finally, the referendum has been acted upon. This marks the end of the period when our government was in control. Eighteen months of tough negotiations await, during which we will realize the degree to which our fate hinges on decisions taken elsewhere."
The Financial Times reported May won't immediately block the rights of EU citizens in the U.K. and could allow the European Court of Justice a partial role in trade disputes and any transitional deal.
In an early blow to the British, three people familiar with the matter told Bloomberg that Tusk will probably limit EU negotiator Michel Barnier's remit to the terms of the divorce.
That will mean no scope for Barnier to discuss a post-Brexit trade relationship, as May wants. Tusk will deliver a statement Wednesday afternoon, and is set to share his draft of the guidelines around capitals by the end of Friday.
Separately, two people familiar with Merkel's strategy said she will push May to pay its EU bills. Such a stance reflects her focus on preserving EU unity and the fiscal and domestic political risks of having to step in once Britain, the union's second-biggest net payer, is out.
On the Markets
Despite falling 17 percent against the dollar since the referendum, the pound is on course for its first quarterly gain in almost two years.

Investors have cast the invoking of Article 50 as a sideshow, but May's letter and Tusk's response could give sterling a further boost, according to Capital Economics
If May's missive "contains conciliatory language, and this is echoed in the response from the EU, then hard Brexit worries could certainly dissipate somewhat further," the economics consultancy told clients on Tuesday.
Strategists at Barclays see the pound rising to $1.32 by the end of 2017 as the outcome of Brexit "is probably not going to be as bad" as anticipated. Those at UBS reckon a return to $1.36 is possible if the talks prove "broadly constructive and collaborative."
A climbing pound may unnerve stocks, though. Bets for turmoil in the FTSE 100 Index are near their highest levels since early December versus expectations for currency volatility.

Brexit Bullets
Scottish lawmakers voted in favor of plans for a second independence referendum, setting up a showdown with May's government
Bank of England policy maker Ian McCafferty says leaving the EU without a deal would cause the economy to "perform quite badly"
Lloyd's of London to pick Brussels for its EU subsidiary, The Insurance Insider reports
Deutsche Lufthansa CEO Carsten Spohr expects France and Germany to take a hard line against the U.K. aviation industry
Berenberg economists say a wide-ranging free trade deal would still cut U.K. long-term potential growth rate from 2.2 to 1.8 percent
The $12 billion fund that manages the wealth of the billionaire family behind Lego wants to add more U.K. real estate to its portfolio
Square is rolling out mobile payment services in the U.K. in its biggest global expansion 
German media giant Bertelsmann may move its intellectual-property hub out of the U.K. because of Brexit, says CEO Thomas Rabe
Think tank Civitas says the U.K. should make a counter claim as high as 1 trillion euros against any exit bill
EU Agriculture Commissioner Phil Hogan says he hopes farm trade between the U.K. and the EU will remain tariff-free after Brexit in 2019
Bloomberg View argues in an editorial that the task of negotiating Brexit should be about mending, not destroying
Bloomberg Gadfly suggests the future of London's property market may well hang on pro-Brexit campaigners' hopes of cutting immigration being dashed.
And Finally….
Bankers preparing to flee London take note: Frankfurt is the cheapest major financial center in the EU to live and work, according to property broker Savills.
The combined annual cost of renting an apartment and the per-employee office space expense totaled just under 30,000 euros in the German city, less than half that of Paris.
Frankfurt is emerging as the favored destination for investment banks such as Goldman Sachs that need hubs within the EU after Britain withdraws from the bloc.

For more on Brexit follow Bloomberg on Twitter, Facebook and Instagram, and see our full coverage at Bloomberg.com
Before it's here, it's on the Bloomberg Terminal.
LEARN MORE