markets
Asia Stocks Ex-Japan Rise on U.S. Confidence, Rate Outlook
By
Strong correlation between U.S. market and Asia: Malayan Bank

Topix falls as more than 1,500 companies trade ex-dividend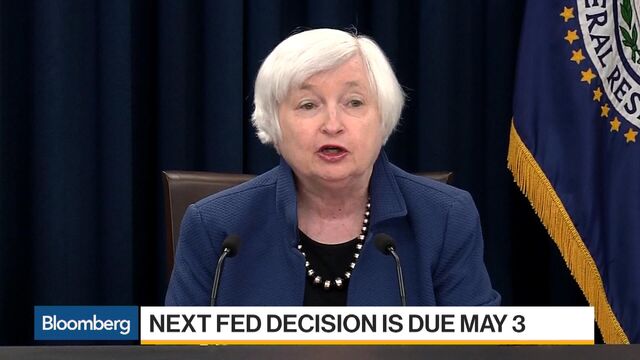 Asia stocks outside of Japan climbed back toward a 21-month high as confidence in the U.S. economy grew and Federal Reserve officials signaled a gradual approach to rate increases. Japanese shares fell as over three quarters of companies in the Topix index traded ex-dividend.
The MSCI Asia Pacific Index ex-Japan rose 0.3 percent as of 3:30 p.m. in Hong Kong, extending Tuesday's 0.8 percent rally. Eight of 11 industry groups in the gauge advanced, led by raw materials, real-estate and finance companies. The measure rose to as high as 483.28 earlier, edging toward the March 21 close of 482.76, the highest since June 2015. U.S. data showed consumer confidence jumped in March to the highest in more than 16 years, while Federal Reserve officials reiterated that two more rate hikes in 2017 seem appropriate.
"Rising consumer confidence and a gradual rate increase in the U.S. can only be positive for Asia," said Andrew Inovero, assistant vice president for trust and investment at Malayan Bank. "There's good correlation between what happens in the U.S. and Asia and it's not only about fund flows. When U.S. consumer confidence improves, part of this increase in spending trickles down to Asian markets and economies."

A gauge of real estate stocks rose 0.7 percent, poised for the sharpest gain in eight sessions, as China Evergrande Group, the nation's most indebted property developer, jumped 8.6 percent in Hong Kong after announcing a plan to introduce as much as 20 billion yuan ($2.9 billion) from strategic investors ahead of a back-door listing on the mainland.
Posco, South Korea's largest steelmaker, paced gains among materials companies, advancing 4 percent in Seoul. The company is expected to release its first-quarter earnings guidance during its March 30 CEO forum. Its first-quarter operating profit may rise 28 percent on steel product increases, according to an IBK Investment report.
Quanta Computer Inc. fell 5.3 percent in Taipei, the biggest decliner among Asia stocks outside of Japan. The stock rounded its sharpest loss since Nov. 11 as its rating was cut to neutral and its share price target lowered to NT$64 from NT$66 at Nomura.
Japan's Topix fell 0.2 percent as 1,516 of its 1,995 member companies traded ex-dividend, equating to a 13.9 point drop. The Nikkei 225 Index fluctuated between gains and losses before closing little changed.
The MSCI Asia-Pacific Index excluding Japan has advanced 13 percent this year, heading for its sharpest quarterly rally since the three months ended September 2010. The measure is poised for a 3.5 percent gain this month. The gauge is trading at 13.5 times 12-month estimated earnings, compared with its five-year average of 12.2 times.
Summary
Hang Seng Index +0.2%; Hang Seng China Enterprises Index +0.1%; Shanghai Composite Index -0.4%
Australia's S&P/ASX 200 Index +0.9%, highest close since April 2015; New Zealand's S&P/NZX 50 Index +1%
India's Sensex +0.4%, poised for its second day of gains; Bharti Infratel rose as much as 7% after parent Bharti Airtel completed a transfer of a stake to another subsidiary
Kospi +0.2%; Taiwan's Taiex -0.2%, 4th straight day of declines
KLCI Index -0.4%; Vietnam's VN Index +0.2%; Philippine Stock Exchange Index -0.1%; Jakarta Composite Index +0.6%; Singapore's benchmark stock index +0.8%; Thailand's SET Index little changed
For more news:
Japan Shares Decline as Ex-Dividend Impact Outweighs U.S. Data
China Stocks Win Lead Over World in Best Start To Year Since '06
Yuan Falls Most in Four Weeks as PBOC Cuts Fixing: Inside China
Nitori Touches New Record on Outlook for Higher Profit, Dividend
Samsung Electro-Mechanics Rises on Expectations for Galaxy S8
U.S. Stocks Rebound With Banks as Crude Advances: Markets Wrap
NCSoft Rises After Announcing Pre-Orders for Lineage Mobile Game
Before it's here, it's on the Bloomberg Terminal.
LEARN MORE