markets
Vertex Leaps as Cystic Fibrosis Combo Trials Hit Targets
By
New drug may help some who stopped Orkambi due to side effects

Company eyeing a three-drug combination aimed at more patients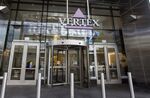 Vertex Pharmaceuticals Inc. shares soared the most in almost three years after its experimental drug combination for patients with the lung disease cystic fibrosis hit the main goals of two final-stage studies, showing a path forward for the drugmaker.
Patients who received Vertex's experimental drug tezacaftor along with Kalydeco, one of the company's already approved drugs, showed more improvement in breathing than those who got placebos, according to a company statement Tuesday. The Boston-based drugmaker said it will apply for U.S. regulatory approval in the third quarter. 
Vertex surged 20 percent, closing Wednesday at $108.01, the steepest climb in one day since June 2014.
The company is looking for new cystic fibrosis therapies after a difficult 2016 that saw its stock fall 41 percent as another of its drugs, Orkambi, failed to live up to high expectations. Patients taking Orkambi sometimes suffer lung spasms, and the new combination treatment might offer them a safer option, according to Vertex Chief Financial Officer Ian Smith.
"We do not see the same respiratory events" with the two-drug treatment, Smith said by phone before the results were announced. For patients who stopped taking Orkambi because of side effects, "this will be a very interesting medicine."
Third Compound
More than 70,000 people around the world have cystic fibrosis, according to the Cystic Fibrosis Foundation. The two drugs in Vertex's treatment play different roles in helping patients with the disease, which clogs airways with mucus, leading to serious infections. Kalydeco is designed to improve the function of a key protein called CFTR, while tezacaftor is aimed at helping the protein reach the cell surface intact. 
Eventually, the company plans to add a third compound to Kalydeco and tezacaftor, potentially creating a drug cocktail that could treat tens of thousands more cystic fibrosis patients with different genetic mutations that cause the rare disease. Galapagos NV and AbbVie Inc. are also working on combination therapies for the condition. 
One study of Vertex's combination treatment looked at 504 patients with two copies of a disease-related mutation called delta-F508. Patients who got the experimental therapy improved 3.4 percentage points on a gauge of breathing ability after 24 weeks, compared with a slight decline among those taking a placebo, for an overall difference of 4 percentage points. The treatment was generally well tolerated, Vertex said.
Among about 250 people with just one copy of the same gene anomaly, plus another gene that makes a partially functioning protein, those taking the combination improved 6.8 percentage points in breathing ability when compared with patients on placebo. Patients taking Kalydeco alone had an average 4.7 percentage point improvement compared with placebo.
Vertex had previously applied to the U.S. Food and Drug Administration to expand Kalydeco's use in those patients, and was rejected in February 2016. The new data, which show Kalydeco does help those patients, have been submitted to the FDA, Smith said.
— With assistance by Caroline Chen
(
Updates with closing stock price in third paragraph. An earlier version of this story corrected the days of week in second and third paragraphs.
)
Before it's here, it's on the Bloomberg Terminal.
LEARN MORE