Uber Wants Waymo Robocar Secrets Fight Out of Public View
By and
Ride-hailing startup invokes Alphabet's own arbitration rules

Billions at stake in attempt to divert dispute from court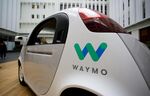 Uber Technologies Inc. says Alphabet Inc.'s own ground rules require accusations that the ride-hailing company stole trade secrets for driverless cars be resolved in private arbitration and not a public court.
It's a bold and unusual gambit by the world's most valuable startup to shift the battlefield in a showdown that may decide who controls key technology in the race to market autonomous vehicles -- a business that both companies believe will be worth hundreds of billions or even trillions of dollars a year.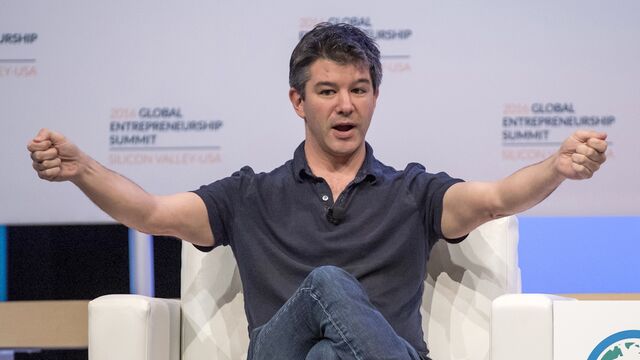 Uber urged a San Francisco federal judge to rule that key claims by Alphabet's Waymo don't belong in court because the Internet giant's own contract with the engineer it accuses of stealing its proprietary information requires employment disputes to go through the informal mechanism of arbitration.
"Waymo should be required to abide by the terms of the contracts it made," Uber said in a court filing Monday.
Read More -- Fury Road: Did Uber Steal the Driverless Future From Google?
Arbitration has been a game-changer for Uber in its protracted battle with its drivers seeking the pay and benefits of employees. While those lawsuits were initially seen as a threat to the company's business model, the drivers have faced an uphill battle trying to pursue their claims in class-action court cases while bound by their contracts to fight Uber one-on-one in arbitration. Only a small fraction of drivers opted out of arbitration when they signed up to work for the company.
Uber said it wants to keep fighting Waymo's patent-infringement claims in court, while moving the allegations of trade-secret theft and unfair competition into arbitration.
Accused, Not Sued
Intellectual property lawsuits are sometimes steered into arbitration, but legal experts question Uber's legal footing to insist on that route in the Waymo case. That's mainly because Waymo didn't sue former Waymo engineer Anthony Levandowski and his two colleagues who it nevertheless accuses in the lawsuit of taking confidential information. Instead, Waymo sued only corporate entities, Uber and Otto, the self-driving startup formed by Levandowski and acquired by Uber in August for $680 million.
That may have been a strategic decision by Waymo to avert being pulled into a "rabbit hole," as California law bars arbitration from being imposed on a party that hasn't agreed to it, said Jim Evans, a lawyer who defends companies against employment lawsuits.
Not naming the people Waymo accuses of wrongdoing as defendants was a "conspicuous omission," Evans said. "Waymo didn't want to get slowed down."
Waymo lawyer Charles Verhoeven addressed the issue at a March 16 hearing, after Uber lawyer Arturo Gonzalez told the judge he planned to file a request for arbitration, without offering specifics about how it would apply to the individuals Waymo accuses of stealing information.
Verhoeven reminded U.S. District Judge William Alsup that "those individuals are not parties" to the lawsuit.
End Run
Uber argued in Monday's filing that Waymo's decision to omit Levandowski as a defendant was an artful end run around his contract.
The arbitration provisions in that contract "plainly cover Waymo's trade secret claims, which are founded on Levandowski's purported misconduct as an employee of Waymo, on activities Levandowski could only have carried out by virtue of his employment," Uber said in its filing, large portions of which were blacked out.
Charlotte Garden, an associate law professor at Seattle University, said it's significant that Uber itself isn't part of the arbitration agreement it's trying to invoke. She expressed doubt that "there are any circumstances at all where Uber can enforce an arbitration agreement that it isn't a party to."
'Baseless Attempt'
Uber has denied the allegations in the lawsuit, calling it "a baseless attempt to slow down a competitor." Gonzalez told Alsup at the March 16 hearing he wasn't seeking arbitration as a stalling tactic in the litigation.
Waymo, meanwhile, is asking the judge to quickly order Uber not to make any further use of the confidential information Levandowski allegedly took before he resigned from Alphabet in January 2016.
Alsup said in court he's taking the allegations against Uber seriously.
"You don't get many cases where there is pretty direct proof that somebody downloaded 14,000 documents, and then left the next day," the judge said during the hearing.
Arbitration may be advantageous to Uber in limiting the information it's required to share with Waymo while the case proceeds, Garden said. Uber may also have a greater interest in keeping aspects of the fight confidential, especially if it's nervous about a ruling in Waymo's favor, she said.
Evans, too, said he could see why closed-door proceedings would appeal to a company that's been grabbing a lot of negative attention.
"Uber has taken its fair share of criticism with respect to sexual harassment claims, its work environment and disputes with its drivers," he said. "I could understand why Uber might want to keep this in a more private forum."
The case is Waymo LLC v. Uber Technologies Inc., 17-00939, U.S. District Court, Northern District of California (San Francisco).
Before it's here, it's on the Bloomberg Terminal.
LEARN MORE